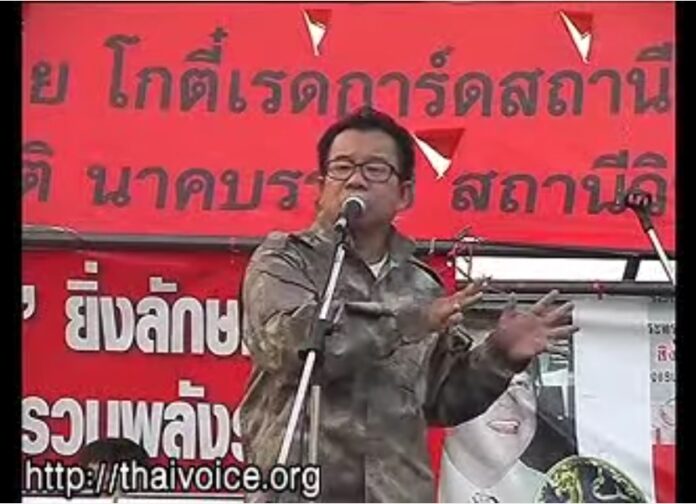 BANGKOK — Deputy junta chairman Prawit Wongsuwan said Tuesday he won't ask Laos to explain what happened to an anti-monarchy critic and exile allegedly abducted there over the weekend.
Gen. Prawit said he didn't know anything about the alleged abduction of Redshirt firebrand activist Wutthipong "Ko Tee" Kochathmmakun and suggested claims of junta involvement were illogical.
"I don't know about this," said Prawit, who also serves as deputy prime minister. "Why would I take him? He's been there for three years. If I were to take him, I would have done so earlier."
Read: Thai Monarchy Critic in Exile Reportedly 'Disappeared,' Junta Denies Knowledge
According to two men who said they were with Ko Tee when he was taken from his residence in Laos, an armed group of Thai-speaking men bound and gagged them before whisking away the 49 year old. Their account sparked fear the military regime or another party had dispatched agents to abduct him.
Prawit said he would not ask Laotian authorities about Wutthipong because he didn't "know the facts."
Other government officials have said they did not have any knowledge about Wutthipong's disappearance, including junta chairman Gen. Prayuth Chan-ocha.
Like his deputy, Prayuth said it was implausible that an armed operation could be carried out in a foreign country.
"Just think about it, whoever wants to do it, can they do it in another country? Is it possible? I don't know," Prayuth said.
Ko Tee is known as a radical Redshirt activist who often called for violent confrontation with his opponents. He operated the Red Guard radio station until he fled Thailand following the 2014 coup. At the time he was under investigation for defaming the royal family comments made about the monarchy in an interview with Vice News.
During his exile in Laos, the activist has advocated replacing the monarchy with a federalist republic, a taboo topic back home.
He was also charged in absentia with terrorism in March for allegedly stockpiling heavy weapons at a former residence in northern metro Bangkok, though Wutthipong strongly denied the allegations.