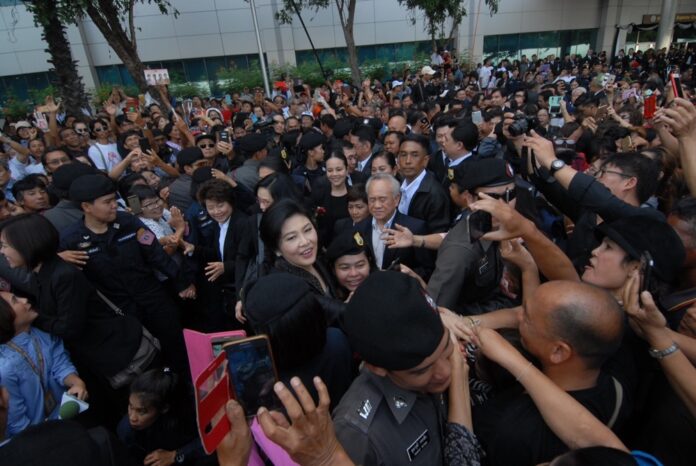 BANGKOK — A day after hundreds gathered to support former premier Yingluck Shinawatra's closing statement in her malfeasance trial, the deputy chief responsible for the most serious police cases launched a crackdown against the people who drove them there.
Gen. Srivara Rangsipramkul, who usually handles matters of national security, charged 21 minivans drivers Wednesday with violating the Land Transport Act by straying from their designated routes to bring Yingluck supporters to Bangkok. Redshirt supporters describe this as just one of the measures being taken to dissuade shows of support for the head of the former elected government.
The leaders of the military government, including junta leader Gen. Prayuth Chan-ocha, have in recent weeks urged Yingluck's supporters to stay home on Aug. 25 and watch the long-awaited verdict on television. They have also dispatched soldiers to talk to locals who support Yingluck.
Read: 3 Junta Critics Charged With Sedition Over Facebook Posts
Redshirt supporters say these efforts are emblematic of the Prayuth regime's strategy of uprooting the legacy of its political rivals, the Shinawatra clan, and falling short of that, render it invisible. Some believe the government is worried any gathering could escalate into a broader show of defiance.
Supporters said these suppression tactics worked this past Tuesday, when hundreds gathered as Yingluck told the court the charges were politically motivated and urged judges not to heed Prayuth's intent she be found guilty.
The Red Doctor
Pongsak Phusitsakul, 57, is a general surgeon at a private hospital who lives an hour west of Bangkok in Ratchaburi province. Pongsak was in Bangkok on Tuesday, but only after he said police visited him in a failed bid to convince him not to go.
"I am irritated," Pongsak said of the numerous police visits to his home and even the hospital where he works.
The surgeon said a cop asked him to meet to talk again tonight, Friday, Pongsak said he'd oblige. He said police acknowledged that they can't stop him from driving to Bangkok to join the hundreds who showed up to greet the ex-premier.
It just seems they don't want to be blamed for it.
"They asked that if a placard is held up, 'Ratchaburi' should not be written on it," Pongsak said Thursday.
Read: Asking for Justice, Yingluck Tells Court She is Victim of 'Political Game'
Supporters who went Tuesday were told by police to put down signs that identified their home provinces.
"They are looking out for themselves. Everyone has been visited and even trailed. They even asked fellow Redshirts about details regarding my wife and child," he said, adding these plainclothes cops take photos with him to present to their superiors.
Many other local Redshirts are not afforded the status of being a physician, however.
Pongsak said others have received rawer visits and threats by cops out of uniform. Their ID cards and homes have been photographed. Some were warned that five people or more simply traveling together to cheer Yingluck violated the junta's ban on political assembly. Checkpoints were set Tuesday along roads leading into Bangkok from the provinces, Pongsak said, though only hired vans were stopped.
No matter how many people show up Aug. 25, supporters say the regime is fearful of its potentially symbolic value.
"They don't want to have a scene where many people show up. If Yingluck goes to prison, we may see a phenomenon in which people go squat and sleep in front of the prison, and this could embolden others to come out," Pongsak said.
Redshirt Noppakow Kongsuwan is another die-hard Yingluck supporter who's cheered the beleaguered ex-premier at the court on many occasions.
Noppakow said Tuesday's turnout, estimated by police to be 800 and supporters to be over 1,000, was lower than hoped. He attributed the past week's flood crisis across the north and northeast as another factor in the smaller-than-expected crowd.
But come Aug. 25, he said it will be a disappointment if fewer than 5,000 show up.
"It may not affect the verdict, but it will communicate to society that these people think what is being done to Yingluck isn't fair," Noppakow said, playing down the chance a guilty verdict could lead to wider unrest against military rule as has been speculated on social media.
Fair or not, Kiat-udom Maenasawat, a former Pheu Thai MP for Udon Thani province, sounded fearful and apologetic when asked about regime efforts to discourage people from his overwhelmingly red province from gathering.
"Please excuse me because I'm not ready to give out details," Kiat-udom said, adding that he didn't want to discuss what happened to others in his community. "I will personally be there [on Aug. 25] because this is our party's policy, however."