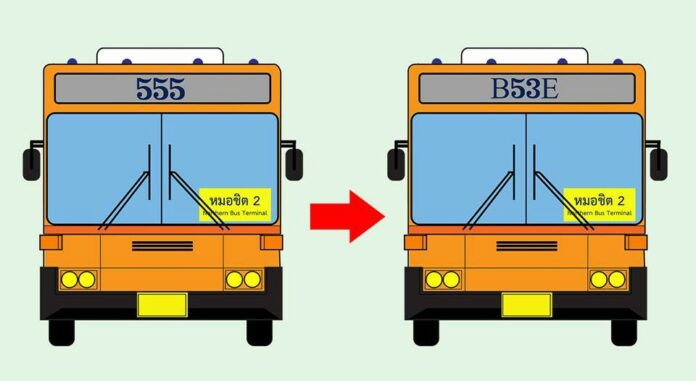 BANGKOK — The capital's public bus system will undergo radical changes when hundreds of them have both their routes and numbers changed starting September, a transport official said Friday.
Sanit Promwong, director of the Land Transport Department said more than 200 bus routes will change across Bangkok and receive new route numbers in the next two years.
"The most important thing is that local people will not be affected," Sanit said Friday. "We'll gradually change the buses' numbers over time and commuters will start to get used to it."
Officials say the radical route re-do will make the system more systematic. Any routes using letters from the Thai alphabet will be changed over to Roman characters for more convenient use by tourists.
The first eight routes will make the change in September. For example, the No. 11 bus will become the No. R3 bus and run from Suan Luang Rama IX to BTS National Stadium instead of its former route between Mega Bangna to MBK Center.
Bus No. 514, which runs from Minburi to Silom, will now be No. G59 and run from the eastern district of Minburi to the Si Phraya Pier near River City Bangkok.
Bus lines will also be separated into four color groups: Green-line routes will begin with G and yellow-line routes with Y, for example.
The project will expand during the next two years. By the end of 2019, 269 route numbers are expected to be changed, according to transport officials.
Some of the planned changes have been posted online.