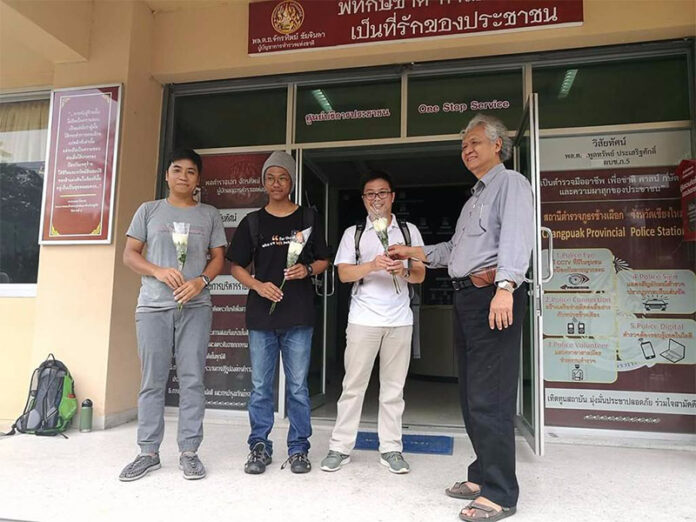 BANGKOK — Five people, including two academics and a news site editor, turned themselves into Chiang Mai police Monday afternoon to hear charges they violated the junta's ban on political gatherings.
Teeramon Bua-ngam, 38, editor of Chiang Mai-based Prachatham news and one of the accused, said before reporting to the Changpuak Police Station in Chiang Mai city that he and the others are innocent.
Teeramon took photos of others holding a banner that irked the authorities on the sidelines of the an academic conference there in July. He said the charges reflect the abnormal situation Thailand faces.
"These are not normal times. We talked about academic freedom and it's construed as a political discussion… There's this climate of fear," Teeramon said.
The banner, which said "academic forum is not a military barracks," was hung in protest of undercover security forces present at the 13th International Thai Studies Conference held July 18. They are being charged under a junta order that bans gatherings of more than four people for political purposes.
If found guilty, they face maximum prison terms of two years.
Read: Academics Lead Today's Junta Resistance, But to Any Effect?
Teeramon said he and the other four have agreed to fight the charges in court if needed. The editor, who presented a paper at the conference, said some participants had become irritated by the military sending soldiers to monitor the event.
Teeramon said he and others are being represented by Thai Lawyers for Human Rights.
The four others are Chayan Vaddhanaphuti, an anthropologist at Chiang Mai University; Nontawat Machi, an undergraduate student at Chiang Mai University's Faculty of Mass Communication; writer and translator Pakavadi Veerapasapong; and Chaipong Samnieng, a lecturer at Chiang Mai University's Department of Sociology and Anthropology.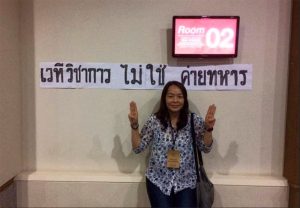 An statement of support signed by nine international scholars was issued Sunday. Among the signatories calling for the charges to be dropped were prominent scholars Michael Herzfeld, director of a Thai studies program at Harvard University's Asia Center and Duncan McCargo, co-founder of New York Southeast Asia Network.
"The presence of military officers at the ICTS conference apparently prompted some individuals to affirm that the conference was an academic forum and not a military barracks. A statement made in defense of the academic  nature of the conference. We are sure you will agree that Chiang Mai Convention and Exhibition Center is indeed not a military barracks," part of the statement read.