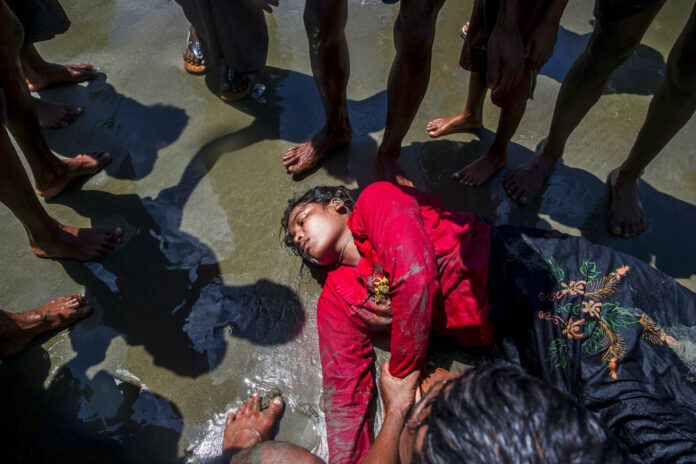 BANGKOK — As the number of Rohingya fleeing what the UN has described as "textbook" ethnic cleansing reached an estimated 412,000 people Monday, Thailand says it will stick to its policy of pushing out to sea any boat people intending to enter its territorial waters.
Citing a three-step rationale to determine the intent of Rohingya fleeing violence in neighboring Myanmar, Col. Peerawat Saengthong from the Internal Security Operations Command said the navy would push back any boats seeking to reach Thai shores.
"There are three steps. First, if the boat has yet to enter territorial waters, we will look at their intentions. If their intention is not to enter Thailand, we may provide food and water on humanitarian grounds," Peerawat said Thursday. "Secondly, if they intend [to enter] we will act according to the law by pushing the boat away. Third, if they are discovered on shore, we must detain them."
He said attempts would be made to distinguish between whether the people were being trafficked or arriving by themselves.
"It would be clear through our intelligence," he said, adding that the same approach applied to any group arriving by sea.
In years past, Thailand has been criticized for pushing back to sea boatloads of refugees escaping persecution, usually in hope of reaching Muslim-majority nations Malaysia or Indonesia. Along the way, they've been victimized, kidnapped and abused by the human traffickers Thailand has made efforts to dismantle in the past two years.
Peerawat said Monday afternoon that they had no intelligence indicating Rohingya refugees were headed to Thailand. He said the authorities would be monitoring the situation.
Uniform Response
While the government's refugee posture is unchanged, a number of Thais sympathetic with the Rohingya plight grappled with the reality of how it could leverage high-level contacts and what else could be done last week at a discussion organized by Chulalongkorn University's Asia Center.
That Thailand is a good neighbor to Myanmar and also predominately Buddhist puts it in a better position to send a message that might be received with less paranoia in Naypidaw than meets the vocal calls coming from the Muslim-majority nations in the region.
Chulalongkorn University political scientist Naruemon Tabchumpol thought the friendship between Thailand's military regime and Myanmar's generals could lead to effective backstage diplomacy.
"The Thai government is good at shadow diplomacy. Perhaps they can talk, not in the name of the Thai government but as a military brotherhood in order to get the Burmese military to tone things down."
Naturemon did not point out however that deputy junta leader Gen. Prawit Wongsuwan recently said that people should refer to the Rohingya as Bengalis – a term preferred by Myanmar authorities.
But the ASEAN's non-interference prerogative could make such an approach backfire.
Experts on Myanmar, such as historian Sunate Chutintranon, don't think the military government in Bangkok can do much by itself and instead place more hope on a united ASEAN approach.
Sunate said that if Thailand suggests Myanmar accept UN intervention, Myanmar could rebut by saying its neighbor should allow the world body to look into its conflicts in the Deep South.
"All ASEAN member states have their own wounds. What if Myanmar says Thailand should allow the UN to handle its conflicts too?" she said.
Anas Amatayakul, a Muslim scholar at Mahidol University said some ASEAN member states, Thailand included, could be an example to Myanmar in terms of integrating various ethnic groups. Anat said if Malaysia handled the matter like Myanmar, its Chinese populations today would have no right to citizenship at all. He then pointed out the various ethnic groups with Thai citizenship coexisting peacefully in Thailand.
"Myanmar is an unfinished nation when compared to Thailand," Anas said.
Also at the symposium was Siyeed Alam, president of the Rohingya Association of Thailand, who spoke about the plight of his people, which the UN's top human rights official described on Sept. 11 as "a textbook example of ethnic cleansing."
Alam said he did not expect a large influx of Rohingya by sea this year after a large trafficking network was partially dismantled two years ago. Still, he urged the Thai government to stop persecuting any refugees who come by boat from Rakhine state.
"Please stop cracking down on Rohingya people," he said.
Civil Society Feeble on Rohingya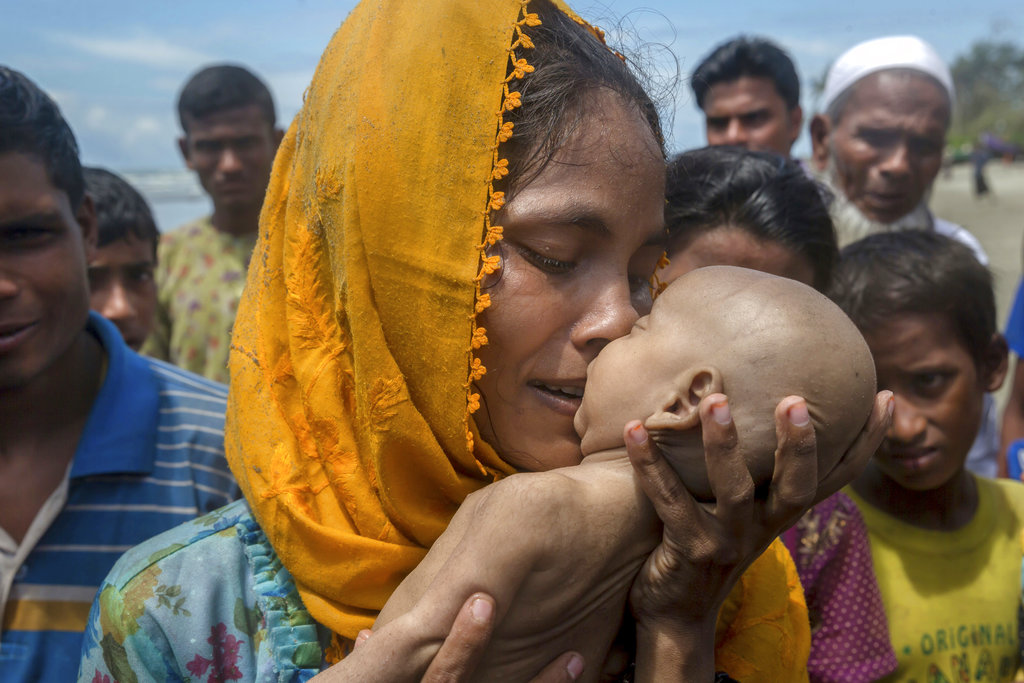 The long-burning Rohingya issue boiled to the surface and gained global attention late last month when an attack by a Rohingya insurgent group prompted a fierce response by Myanmar's military.
While it's become a topic of international disapprobation, the Rohingya issue has gained little traction in Thai society. A Thai-language Change.org petition urging Min Aung Hlaing, commander-in-chief of the Tatmadaw, to stop the violence had gathered only 263 supporters as of Monday after it was launched by Amnesty International Thailand.
Mostly silent has been civil society as well, which is deeply fractured by the past decade's domestic politics.
For those who want to send a message, Naruemon warned against making the issue a religious conflict and against specifically targeting de facto leader Aung San Suu Kyi.
Naruemon, argues that Thais should not vilify Aung San Suu Kyi because she has little or no control of the Burmese military, which is directly responsible for the violations.
"There's no parliamentary supremacy as some may thing. Aung San Suu Kyi only has mass supporters as her base," Naruemon said.
Naruemon and others agreed that any humanitarian assistance should be given to those affected by the violence in Myanmar which includes non-Rohingya as well.
"Don't just help Muslims," urged Thanin Salam, a Chiang Mai University anthropologist who conducted a field study on Rohingya refugees in Malaysia. Thanin, who is Muslim, said there's a need to play down the Muslim identity in offers of assistance by state or civil society in order to reduce the level of fear by Buddhist Burmese.
"Muslim organizations should work with international organizations," said Anas, who also is Muslim.
Update: Additional information from ISOC spokesman Peerawat Saengthong was added regarding how Rohingya boat people would be handled by the Royal Thai Navy.
Correction: An earlier version of this story misspelled the name of the ISOC spokesman. It is Peerawat Saengthong, not Peerapat Saengthong.