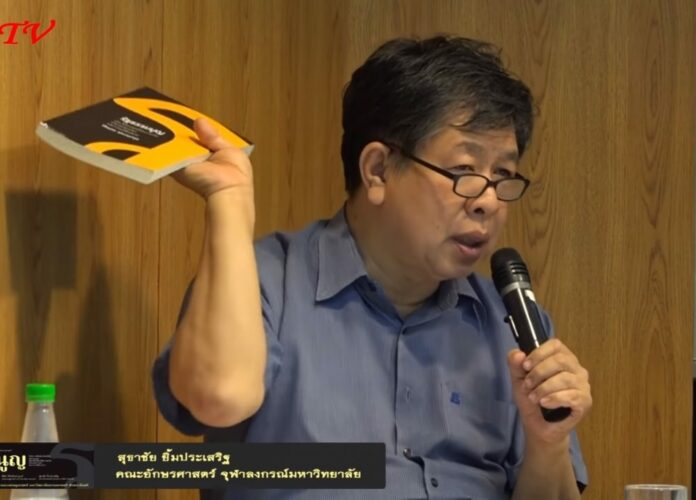 BANGKOK — A former student activist and guerrilla fighter turned academic who advocated his entire life for democracy died Wednesday morning at 61.
Suthachai Yimprasert, who became one of the most respected names in modern historical writing and a familiar face at protests and other gatherings, died of brain cancer at 8:30am at Chulalongkorn Hospital.
His death came two months after being diagnosed with cancer while fulfilling a lifetime dream of traveling to Paris to follow the footsteps of the Thai students who there plotted Thailand's democratic revolution nine decades ago.
His death was first announced online by those who worked with him in publishing. Tributes soon poured in from his students, fellow activists and writers and the Redshirt community – of which he counted himself as a member.
"Farewell, warrior of the public, people's pundit, compassionate teacher and my beloved comrade," wrote Chiang Mai lecturer Thikan Srinara.
"Today Thai society has lost a commoner academic, a man humble yet arrogant to injustice," wrote activist Pakorn Areekul, who also recounted how Suthachai once barred a security officer from punching an activist during a 2015 standoff.
Even Tnews, a hardline pro-junta news website, praised him as a "lover of democracy" in its tribute.
Known by those close to him as Ajarn Yim (the smiling professor), Suthachai taught history at Chulalongkorn University's Faculty of Arts, where generations of students, this writer included, knew him as a chubby man who wore slippers in the classroom and ended nearly every serious sentence with a laugh.
Despite his teaching job at Thailand's conservative bastion, Suthachai freely touched on taboo topics such as the monarchy and turbulent moments in political history. He also had habit of telling his students he was more concerned about them reading the required syllabus than their uniforms and attendance records.
He wrote more than 20 academic papers and books on Thai politics, including "A Plot To Seize Thai Nation," an account of opposition to a Cold War autocrat regime; and "Stream of History of Thai Democracy," which detailed efforts to bring about democratic change.
He was also a lifelong advocate for political causes, having dedicated himself to both violent and peaceful methods.
He fought in the jungles alongside his Communist comrades in the 1970s. After the insurrection ended, Suthachai joined Chulalongkorn University and again took up activism. He opposed successive governments of all stripes he saw as undemocratic, from populist strongman Thaksin Shinawatra and the junta that ousted him to the military-backed government of Abhisit Vejjajiva and, most recently, the regime of Prayuth Chan-ocha.
Suthachai identified as a Redshirt supporter. But unlike Redshirt politicians who played it safe, Suthachai often called for more open discussion about the monarchy. He campaigned for abolition of the royal defamation law.
"The fundamental problem of Section 112 is that it's a barbaric law," Suthachai wrote in 2012. "Because it has an unduly severe punishment, it's become a tool to hurt innocent people."
Suthachai was born on April 28, 1956, in Nakhon Pathom province. He enrolled in the prestigious all-male Suan Kularb School and later Thammasat University.
Like hundreds of thousands of other Thais at the time, Suthachai was swept up in the fervor of left-leaning idealism that dreamed of a better world at a time Thailand was a poor country ruled by an American-backed military regime.
On Oct. 6, 1976, as Suthachai and other leftist students gathered after an overnight protest at Thammasat, police commandos and right-wing militia members stormed the campus and butchered scores of students. Suthachai, who saw several of his friends gunned down in the massacre, decided armed uprising was the only solution.
He fled to the southern jungle, joined the Communist rebels and took up the nomme de guerre "Comrade Somporn."
"I left my house in the early morning. I left a letter apologizing to my mom. I told her I believed in the cause and struggle of the Party," he once said.
He fought government forces until the party surrendered, forcing him to return to the city. Suthachai then continued his studies at Srinakharinwirot University and graduated in 1981. Eight years later, he received a master's degree from Chulalongkorn. Throughout those years, he took newspaper jobs at Nation Group and the now-defunct Matuphumi.
In 1998, he received a scholarship to the University of Bristol and completed his doctoral degree, having written a thesis on Portuguese settlers in Asia. He returned to Chulalongkorn to teach history.
While teaching, Suthachai remained an active political advocate. He served on the board of a foundation dedicated to memory of the 1973 student revolt, wrote numerous columns and hosted a number of online TV programs. In 2012, Suthachai joined a failed campaign to reform the lese majeste law.
Suthachai was detained by the military in 2010 and accused of belonging to an anti-monarchy plot, though he was later released without charge and a government spokesman admitted the allegations were false.
He was a favorite speaker to many Redshirts, largely because of his academic background and humor. He was an active campaigner against the 2014 coup and the current junta.
In July, Suthachai fulfilled his longtime dream of traveling to Paris for the first time to retrace the steps of the progressive students behind the 1932 democratic revolt. But he fell ill on the first day and spent the rest of his time in France in a hospital ward. He was diagnosed with brain cancer, flown back to Thailand and admitted to Chulalongkorn Hospital.
His condition worsened until he died on Sep. 27.
Suthachai's funeral will be held for four nights Wednesday through Saturday at Wat Hua Lamphong, down the road from the college he taught at for decades. His family has requested guests not bring any wreaths or donations.
He is survived by his wife, a lecturer at Silpakorn University.
Correction: An original version of this article said Suthachai received his Bachelor's Degree from Chulalongkorn University. In fact, it was Srinakharinwirot University. We regret the error.