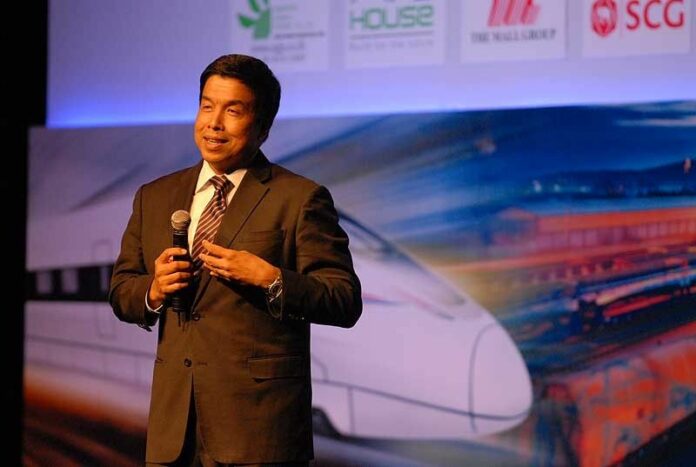 BANGKOK — A former transport minister turned internet cult figure turned down a seat on the junta's 20-year strategy planning body, a government spokesman confirmed Sunday.
Former Transport Minister Chadchart Sittipunt, one of the most popular members of Yingluck Shinawatra's government who was immortalized in social media memes, declined Saturday to take the job offered to him by the military government, citing schedule conflicts and family issues.
"I have not clearly understood the concepts and principles of the national strategy," Chadchart, 51, wrote online. "Moreover, I am bound to the duty of full time employment of a public corporation, and specially family responsibilities. Therefore I cannot perform a duty in the National Strategy Committee."
Read: Chadchart, ThaiBev Scion and Central VP to Devise Nation's Future
Chadchart, who was dubbed "World's Toughest Minister" by his supporters, said he planned to notify the government of his decision Friday – a day after his appointment was announced – but could not submit the document in time.
Admired for fostering a down-to-earth public image and seeming more concerned with public service than is normal in Thailand's personality-driven politics, Chadchart is one of few ministers from the former civilian government with a clear political future. His name has been mentioned on some wish lists for a future high-level post, including prime minister.
Government spokesman Sansern Kaewkamnerd told reporters Sunday the prime minister has been informed of Chadchart's decision. He said the government respects Chadchart's decision and will look for someone else to replace him.
"If anyone cannot take up the duty because of personal issues, it's fine," Lt. Gen. Sansern said.
Since leaving office, Chadchart has worked in real estate. He's currently an executive with real estate developer Quality Houses.
Deputy Prime Minister Wissanu Krea-ngam said Monday that he was sad Chadchart would not take up the offer.
Chadchart rose to internet fame for going out on foot to personally inspect public transports such as buses and river boats commuters complained about. He pledged to improve their conditions and pushed for massive infrastructure projects, including a high-speed rail line that would link the capital to the rest of Thailand and beyond.
He was among 70 people appointed by junta chairman Prayuth Chan-ocha on Thursday to draft several 20-year strategic plans which future governments would be legally bound to follow.
The body, called the National Strategy Committee, was introduced by the 2017 constitution written under the supervision of the military government. Critics of the constitution said the committee and similar organizations would act as "super cabinets" that interfere with elected governments long after the next poll.
When Chadchart was included in Thursday's announcement, his supporters were split. Some praised him for taking the job and hoped he would bring his talents to the national planning effort.
"The goal is to [work] for the people," Facebook user Thorranis Ungsumeth wrote in a thread. "Even though we take up different paths, I only want him to truly dedicate himself to the people. That's enough. It's better than being idle and not doing anything at all."
Others criticized him for collaborating with the coup regime.
"Not to mention the fact that he was a minister in a government toppled by the coup, all technocrats must question their morality," lecturer Suraphot Thaweesak wrote online. "This country is in a lousy state without a future precisely because we have no one who values democratic legitimacy in their morality."
Government spokesman Sansern said the regime reached out for people of all political backgrounds.
"We want the society to move beyond politics, because if we are still stuck to it, we would not go anywhere," Sansern said.
It wasn't the first time the junta announced an appointment prematurely. In February, it said well-known economist Pasuk Phongpaichit would sit on its national reconciliation committee, only for her to say she'd never actually been contacted.