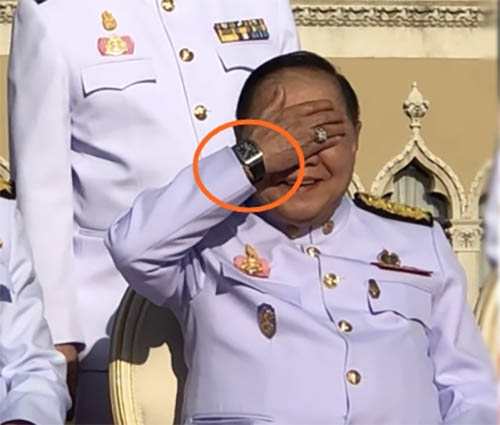 BANGKOK — The second in command of the ruling junta said Wednesday he's willing to discuss his taste for luxury wristwatches with an anti-corruption agency, but not the public – and certainly not reporters.
Gen. Prawit Wongsuwan, who was already getting low marks from the public before being spotted wearing a multi-million baht watch, said he'd discuss the flashy wristwatch with the National Anti-Corruption Commission after an anti-graft crusader vowed to petition the agency to look into it.
A member of the body took up the offer Wednesday.
Read: Deputy Junta Head Sports Spendy Haute Horology
"We are not pressured. It's normal work. It all depends on the facts," said Worawit Sukboon, the commission's deputy secretary general. Worawit said the matter would be taken up Thursday.
The watch, believed to be made by super-luxury brand Richard Mille, has an estimated value of at least 3 million baht. He flashed it Monday in an official portrait taken of the new cabinet. That led veteran transparency advocate Srisuwan Janya to say he would petition the commission Thursday to look into any possible irregularities.
Since Monday, the mockery has been running wild online, where Prawit was already taking flak for insensitive comments about a cadet who died in a military academy. He has since apologized.
Netizens and critics have been striking the same pose in photos mocking the deputy junta leader with satirical remarks.
"Everyone's got one!" pro-democracy activist and anti-junta dissident Sombat Boonngamanong wrote with a photo of himself sporting a top hat and bowtie.
University professor and social media influencer Jessada Denduangboripant posted a photo of himself with a cheap blue plastic watch and ring captioned: "I am a low-ranking civil servant, but I have enough savings for a ring and a watch. LOL."
The watch in question was captured by news photographers Monday as Prawit joined the new cabinet for an official group photo. It invited curiosity as to how much it cost and why it was not declared among assets when he assumed the post of deputy premier after the 2014 coup.
Gen. Prawit told reporters this morning he wouldn't publicly discuss the matter.
"I don't need to clarify. I did it. I will clarify it to the NACC. It's okay," 72-year-old Prawit said. "I don't need to answer to the press. If the NACC asks, I will reply."
Pressed further if he has evidence readied, he said yes. Asked if the watch make was indeed a Richard Mille or not, Prawit deflected the question.
"I don't know. Please ask about other topics," he said.
Prawit was then asked if he feels disheartened or discouraged by the criticism. He said no.
He would not specify if he obtained the watch before or after taking office.
"Don't know. I won't answer. I will answer to the NACC. I don't know why I should answer to you people. If I answered, the media will elaborate on it," Prawit said, insisting he has not been involved in any corruption.
On Facebook, some questioned how Prawit could afford a multi-million baht wristwatch on his salaries totaling 240,000 baht (119,920 baht for deputy prime minister and 119,920 for junta deputy).
Same Sky Magazine editor Thanapol Eawsakul wrote online Tuesday to question how appropriate Prawit's choice of a multi-million baht watch in light of the "sufficiency economy" espoused by the late King Bhumibol and encouraged by the military government.
Even New Yorker internet personality Nelson S. Howe, who often pokes fun at things Thai, joined the bandwagon by mimicking Prawit's posture with his right hand covering his eyes:
"I love my watch. I bought it with my own money."