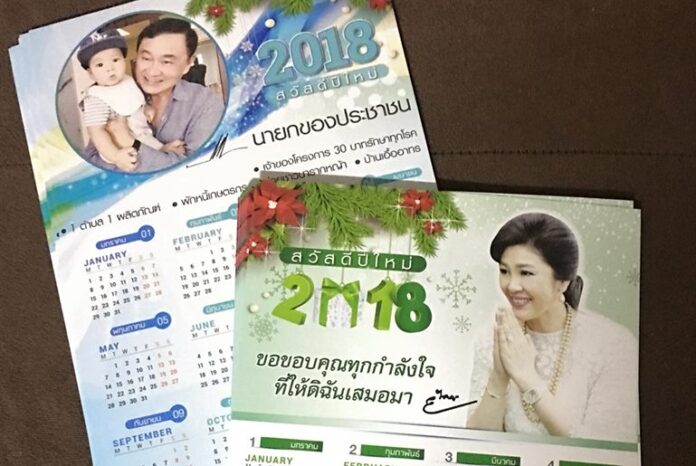 BANGKOK — Pheu Thai Party's chairman said Friday his party was not behind calendars featuring former prime ministers Thaksin Shinawatra and Yingluck Shinawatra, who are currently living in exile.
A photo of one of two calendar designs posted Thursday by a Pheu Thai supporter show Thaksin, still the party's de facto leader despite his ouster a decade ago, holding his infant granddaughter. The other shows Yingluck, its most recent leader and Thaksin's sister, performing a waii.
"I thank you for all the support you have always given me," reads the caption accompanying Yingluck's photo, which includes what appears to be her signature.
But Pheu Thai exec Phongthep Thepkanjana said the party had nothing to do with it.
"They were definitely not made by Pheu Thai," he said. "I also saw them on social media. I don't know where they're from. But I can tell you, they are not related to Pheu Thai."
Asked which group was responsible for the calendars, Pongthep said, "I really don't know."
The person who posted the photo, Arunwatee Kong Li Chattay, said the calendars were given to her by a friend so she did not know who made them.
Calendars were previously a point of conflict between Pheu Thai supporters and the ruling junta which toppled Yingluck's government in 2014.
When similar calendars depicting Thaksin and Yingluck surfaced in January 2016, the regime banned their distribution. Junta chairman Prayuth Chan-ocha slammed the calendars on the grounds that Thaksin was a corrupt fugitive from justice.
"Do you want to worship him so much? There are many good people out there," Gen. Prayuth said at the time. "If he thinks he's not wrong, then come back. I will make so many calendars for him, too."
Related stories:
MFA Says 'No Evidence' Yingluck Has Obtained British Passport