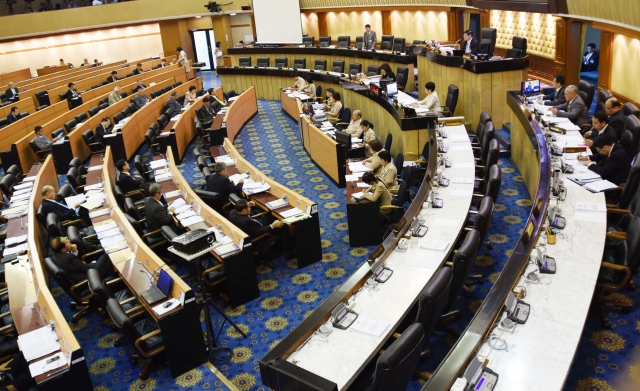 BANGKOK — Proposed wiretapping legislation was withdrawn from parliament Friday after meeting fierce criticism.
Police Gen. Chatchawan Suksomjit, who leads a committee in the legislature, conceded just before 11am that the public and legislators held deep concerns about potential abuses of power under the proposed law. He said it would be best to withdraw the proposed Article 37/1 of proposed anti-corruption legislation that would have allowed the National Anti-Corruption Commission to wiretap and spy on corruption suspects' digital communications.
Read: Lawmakers Warn of Power Abuse if Parliament Passes Spying Law
"There are concerns about the repercussions, and there may be concerns that those using the power may use it inappropriately," Chatchawan told the junta-appointed NLA.
"[We] don't want such sentiments to get out of control. It may take more time to create understanding. Actually what we asked was so little. But we discussed it and concluded that the time is not right, that we should withdraw it first."
Since Thursday, most lawmakers took turns attacking the proposed power, saying it could easily be abused by gathering intelligence for blackmail purposes.
Before the decision by the national legislature's vetting committee withdrew the proposal, lawmaker Tuang Inthachai took to the floor to warn that passage would deepen existing distrust in society.
"For the past 10 years, people in Thai society do not trust one another," he said. "[This proposal] will add more fuel to that distrust and will lead to another crisis."
Debate on the proposed law began Thursday and had been held over to Friday morning.