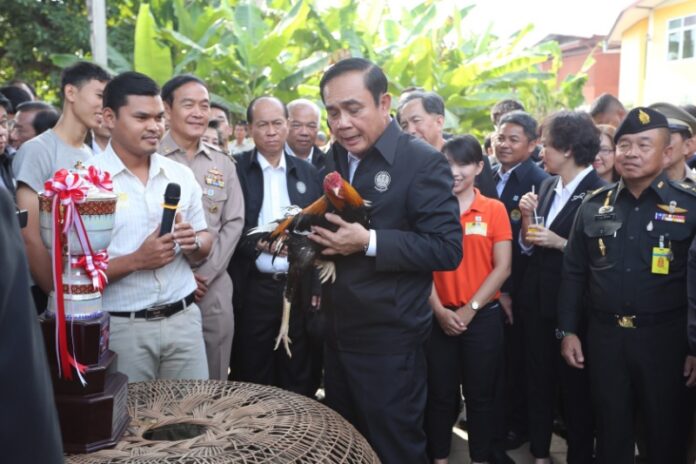 PHITSANULOK — Going beyond his weekly televised Friday monologues, junta leader Gen. Prayuth Chan-ocha has on occasion delivered messages to the public through an alternative medium: farm animals.
Months after sharing his inner thoughts with a frog and encouraging unity among a herd of cows, the 63-year-old retired general, who has been criss-crossing the nation to get face time with the masses, conveyed a message Monday to a cock.
"Do not be afraid of the NCPO. The NCPO is not strict," Prayuth told the rooster at a stop in Phitsanulok province, where he was visiting as prime minister.
Read: Prayuth Tells Frog His Fairy Tale Dream on Isaan Goodwill Tour (Photos)
According to the Internet Law Reform Dialogue, or iLaw, as of September 2017, more than 1,300 people had either been detained without charge for what it euphemistically describes as "attitude adjustment" sessions or visited at home by soldiers since the May 2014 coup.
The animal that garnered Prayuth's attention was a prize-winning fighting cock named Thep Prathanporn.
It was unclear whether the rooster understood the message.