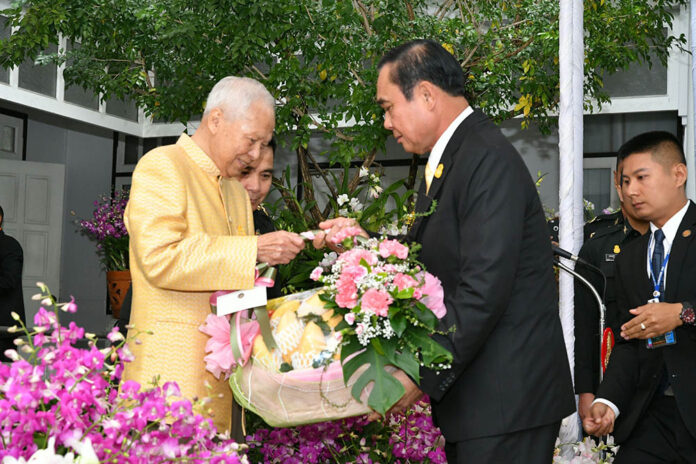 BANGKOK — The chairman of the king's advisory council showered the ruling junta Thursday with his praise and support.
Per annual tradition, the regime met with privy councilor and former premiere Prem Tinsulanonda to pay their respects and seek a New Year's blessing. And blessing they got when Prem suggested the public would be on the side of junta chairman Prayuth "Tuu" Chan-ocha as long as he keeps working for the greater good.
"Tuu has used up nearly all of his reserve forces. He barely has any reserves yet," 97-year-old Gen. Prem said. "But if you show the goodwill you have for the Thai people, more reserves will show up. Therefore, please stick to your goals, so that you will have more reserves."
Prem, who served as military-backed prime minister from 1980 to 1988, also praised the junta members for "exhausting" themselves in their efforts.
"I'd like to express my admiration and pride for the works that Tuu's government has done," he told the stack of generals present at his residence. "I'd like to also stress on Tuu's words that he will bring happiness to Thai people. He must commit to this goal, no matter how exhausted he is."
Prayuth was accompanied by key members of his junta and cabinet, including deputy junta chairman Prawit Wongsuwan, police chief Chakthip Chaijinda and Prime Minister's Office secretary-general Vilas Arunsri.
The regime's visit to Prem's residence is closely watched by political observers due to Prem's formidable status as an influential military man and personal advisor to His Majesty the King. Prem was also widely respected by the military faction that was the dominant power center before Prayuth's cadre assumed power following the 2014 coup.
Prem joked cordially with the visiting officials after the formal greetings and speeches were over.
To Gen. Vilas, the elderly general teased that he might be capable of serving as prime minister one day.
"You can easily become a prime minister because you work closely with Prayuth," Prem said.
He also shared some moments with Prawit, the junta strongman who's weathering a scandal over his displays of unusual and unexplained wealth in the form of ultra-luxury watches.
"Pom, you're fine? You're still strong?" Prem asked, using Prawit's nickname. The junta No. 2 nodded and politely replied, "Yes, I am still strong."
When Prayuth put in that 72-year-old Prawit is suffering from so-called trigger finger, a painful medical condition which forces him to wear bandages, the amused Prem asked Prawit if he'd had a fistfight with anyone recently.
"With myself, sir," Prawit said, drawing laughs.