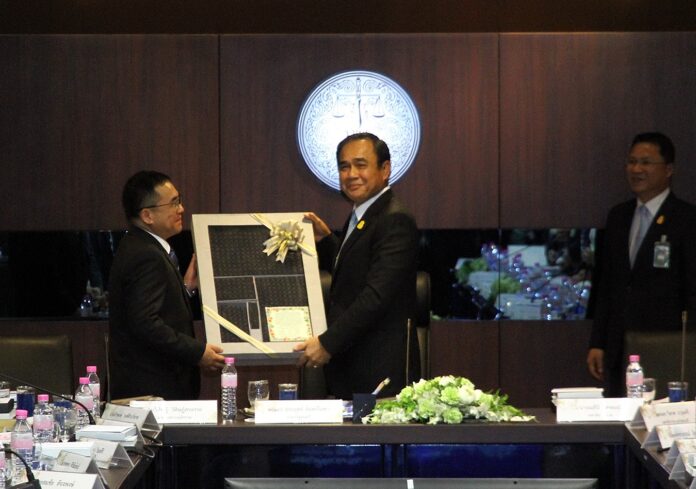 BANGKOK — Just as the junta's No. 2 boss is under pressure to explain a collection of ultra luxury watches – which far exceeded the 3,000 baht value limit of gifts he can legally receive – the agency investigating him is raising a question.
Why not raise the limit?
Top officials said in recent days they are open to raising the cap on the grounds that the 3,000 baht limit is outdated. The suggestion was met with protest from a transparency activist who accused the officials of attempting to distract from the investigation into Gen. Prawit Wongsuwan's watches.
"There's only one reason to make this an issue, which is to find an excuse for the watches," Srisuwan Janya, who's petitioned the government more than 1,000 times, said in an interview.
A 2000 regulation forbids holders of political offices from receiving presents worth over 3,000 baht. The rule is enforced by National Anti-Corruption Commision, an agency that's supposed to operate independently from the government.
Commission sec-gen Worawit Sukboon first suggested raising the limit at a Friday news conference, though he stressed that it was just an idea and there was no immediate plan to change it.
But his comment was soon echoed by Deputy Prime Minister Wissanu Krea-ngam and anti-graft commission chairman Watcharapol Prasarnrajakij.
Wissanu told reporters that the cost of living has climbed significantly in the 17 years since the rule was issued, while Watcharapol said officials are expected by social customs to receive presents on important occasions such as New Year's Day.
"In foreign countries, they also give some presents during Christmas," Watcharapol said, adding that his agency is "not in a hurry" to amend the existing law.
Srisuwan, the activist, said allowing officials to receive expensive gifts would only encourage bribery and favoritism. Asked what the cap on gift value for officials should be, Srisuwan said "zero."
"If it were to be amended, it should be amended to say zero," Srisuwan said. "The NACC has been saying all along, their job is to get rid of corruption."
He also said he would file a legal challenge to the Administrative Court if the commission unilaterally amends the gift value limit without consulting the public first.
A higher limit would not seem to materially benefit Prawit, who in one month's time has been seen wearing upward of 17 watches worth millions of baht in photos from recent years. None was declared in his mandatory assets disclosures upon taking power after the coup.
The 3,000 baht rule has become a talking point since the 72-year-old's aides told the media that at least some of the multi-million baht watches were gifts from an unidentified friend. After that explanation was met with derision, word went out that the unknown benefactor had died.
That explanation would not get Prawit off the hook. Receiving such gifts would violate the law and subject Prawit to three years in prison if convicted.
Gen. Prawit has steadfastly refused to answer questions about where he got the watches and why he did not declare them. Although he has met with the anti-graft commission to give his side of the story, officials declined to disclose what he said.
The controversy has become yet another scandal to hit the junta at a time opinion polls show withering support for the regime.