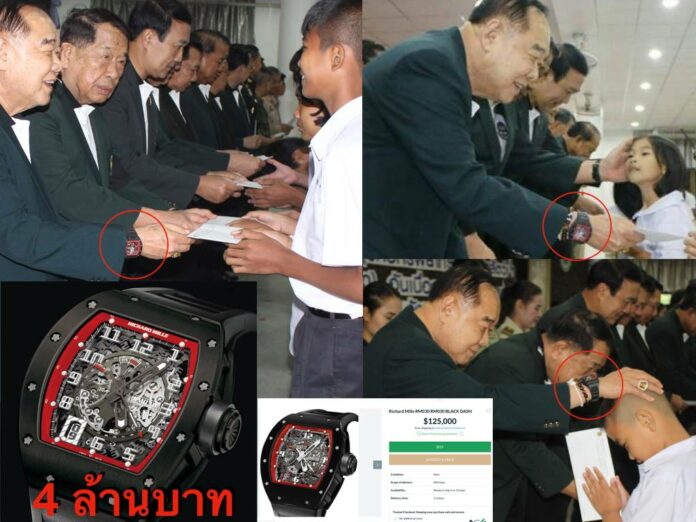 BANGKOK — As if one unexplained multi-million baht Richard Mille watch on the wrist of deputy junta leader Gen. Prawit Wongsuwan wasn't controversial enough, yet another timepiece in a different model was spotted by social media sleuths in a recent photo.
The national anti-corruption commission, which is giving Prawit until Jan. 8 to clarify the first watch, said Thursday that it might look into the second Richard Mille watch as well. In response to the latest scandal to hit his military government, junta leader Prayuth Chan-ocha on Tuesday urged the media not to be "too hard" on his second-in-command.
"Don't be too hard on him," Prayuth told reporters about Prawit and his Swiss wristwatch.
Read: Prawit Given 30 Days to Come Clean on Fancy Watch
The self-proclaimed "online detective" page CSI LA posted on Wednesday a photo that purports to show another model of Richard Mille watch, an Model RM 30, strapped on Prawit's right wrist while handing scholarships to students in Chanthaburi province on Sept. 11.
"No one would have said anything if he was a Hollywood star or a singer, but he's an army general who is in power to solve corruption," the page admin wrote.
A sales rep at PMT The Hourglass at Siam Paragon shopping mall said Thursday that Prawit is not listed as a customer of the shop, which is the sole distributor of the brand in Thailand.
The woman, who only identified her name as Som, said the watch shown in the CSI LA photo appears to be an RM 30. A titanium case Model RM 30 is sold at the shop for 3.59 million baht, the saleswoman said. The price goes up to 5 million baht for a white gold case. She added that she cannot tell from the photo if the one pictured was titanium or white gold.
The first Richard Mille watch on Prawit's wrist, which was spotted when the general joined an official photo shoot of the new cabinet, was model RM 29 and costs 3.1 million baht in titanium and more if it's in a white gold case, the saleswoman said.
The saleswoman, who said company's policy prevents her from giving her full name, said the brand makes about 2,000 watches a year.
The photo prompted the National Anti-Corruption Commission to pledge action. Anti-graft commissioner Vorawit Sukboon said he will check if Prawit has declared the second Richard Mille as part of his assets, as required by the law, when he became deputy prime minister in 2014.
However, Prawit's asset declaration, which is a public document, did not include either timepiece.
According to the anti-corruption regulations, political office holders must declare any belonging priced above 200,000 baht. Any failure to do so is punishable by up to six months in jail.
Over the past week, including today, Prawit has repeatedly refused to answer reporters' questions about how he has obtained his first Richard Mille watch. He said he would only explain the issue to the anti-corruption commission.
Reports that he would tell the commission it was borrowed from a friend didn't come to fruition after meeting a contemptuous response from the public.