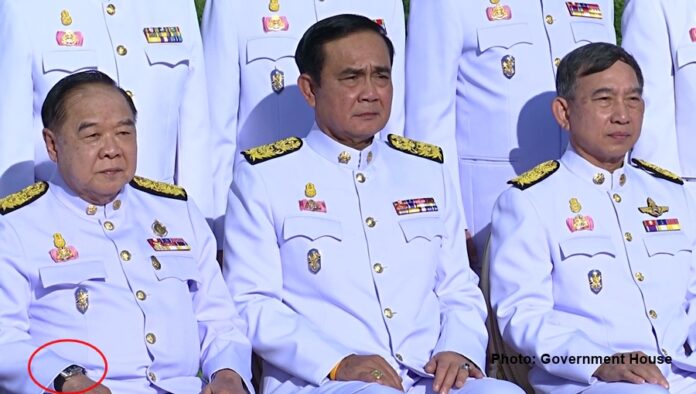 BANGKOK — A deputy prime minister and top junta leader was given an ultimatum by a corruption watchdog agency to explain pricy luxury items that he never declared among his assets.
The National Anti-Corruption Commission, or NACC, on Thursday asked Gen. Prawit Wongsuwan to explain personal accessories including a Richard Mille wristwatch – worth at least 3 million baht – and diamond ring seen in photos which prompted questions about how he could have afforded them.
It turned out the items were not included on a list of declared assets when Prawit took his position in the ministerial office after helping stage the 2014 coup d'etat.
The deputy junta leader and his expensive items came under spotlight Monday when a portrait of the new cabinet revealed Prawit's flashy watch peeking out from under the his sleeve. It quickly invited mockery and implicit accusations of corruption against the junta second-in-command.
Good-governance activist Srisuwan Janya filed a complaint to the NACC on Thursday, urging the commission to investigate the issue.
Prawit declared assets of 87 million baht including 53 million baht in cash. He has refused to discuss the matter since Tuesday and skipped at least one scheduled public appearance since the controversy erupted.
Related stories:
Show and Don't Tell: Gen. Prawit Won't Explain His Bling Watch to Public