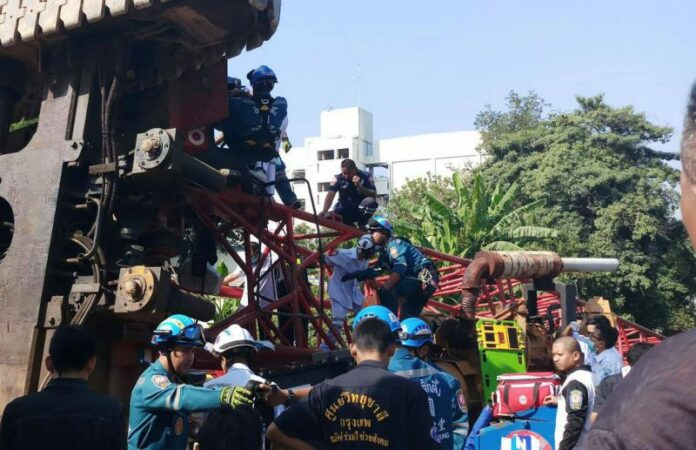 BANGKOK — Another day, another crane falls in Bangkok.
This time, when a crane came crashing down Friday morning at a construction site in northern Bangkok, it left a man disabled for life. Work was halted on a water diversion tunnel at Khlong Bang Sue after the crane topped onto its side, pinning 54-year-old operator Somphong Kaewduangjan. His right leg was severed from his body.
Emergency workers rushed to the scene at about 10am and it took them 20 minutes to free Somphong from the crane. He was taken to Vachira Hospital for treatment. He was expected to survive.
Chuchart Ngamwas, who was overseeing the construction site, said that Somphong was operating the crane to move materials used in lining the tunnel. However, the sling got stuck and Somphong's attempt to pull it free caused the crane to tip over.
Police had not charged anyone as of Friday morning but said they will continue to investigate for any signs of negligence.
Construction accidents, sometimes fatal, are pervasive at the many projects across the capital.  In April, three workers were killed while working on the elevated Red Line extension.
Related stories:
Green Line Construction Crane Topples on Phahonyothin Road
Legal Action Against Italian-Thai Weighed After Red Line Collapse Kills 3
Another Accident Lands Italian-Thai in Hot Water For Safety Lapses
No Charges Over Fallen Crane at BTS Phra Khanong
Dead Workers Probably at Fault for Fatal Crane Failure, Cop Says