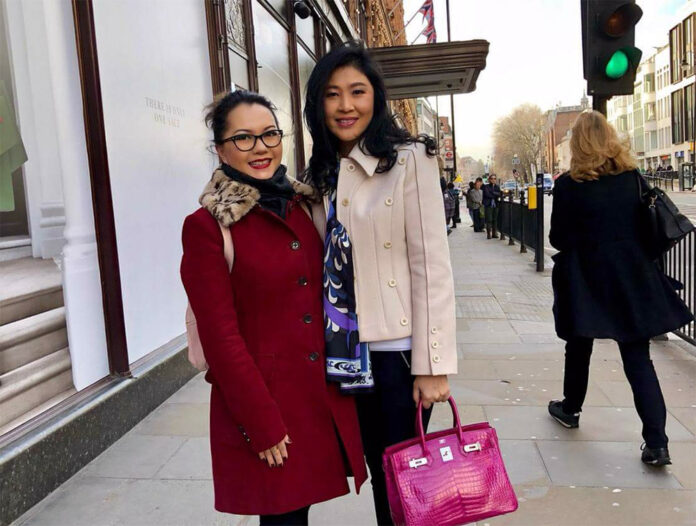 BANGKOK — What appeared to be candid photos of fugitive former premiere Yingluck Shinawatra in London were – to her partisan supporters and detractors – deliberately spread to test the waters of public opinion.
That was the take Monday, several days after a third photo emerged which clearly shows 50-year-old Yingluck posing with a fan on a wintry day, the Union Jack flapping in the background.
"The leaked picture is an attempt to test the water and see reactions from society as well as the military," said Manit Sriwanichpoom, a well-known artist and prominent anti-Yingluck protester. "We don't even know who planted the leaked photo and how the picture was obtained."
Yingluck Spotted in London: Report
On the opposite political pole, law expert Ekachai Chainuvati, an admirer of Yingluck, also believes the leaked photo was no coincidence. "Yingluck is a person who knows what she's doing. The fact that a photo of her standing with someone [in London] came out is definitely not a coincidence."
The Yingluck photos have emerged nearly five months after she fled the country and vanished from the public eye. The most recent photo, which has circulated over the Line messaging app since Thursday, shows Yingluck smiling with an unidentified woman. Yingluck is clutching a Hermes Porosus bag in rose-colored crocodile skin. Online listings indicate the bag costs over 2 million baht.
It emerged less than a week after a reported Yingluck sighting at a west London shopping mall.
Reached for comment Monday, a spokeswoman for the embassy declined to comment or even give her name.
On Saturday, Thanakrit Vorathanatchakul, a prosecutor in Thailand's Attorney General's Office, gave details about how such a process may work, however.
The prosecutor said that if the convicted former premier could convince the British authorities that returning to Thailand would result in unfair persecution or harm, she would be eligible to seek asylum in the United Kingdom. This, Thanakrit said, could cover Yingluck's husband and son, who is still a minor. If asylum status were to be granted, Yingluck and her family could reside in the United Kingdom for up to five years.
After five years, if there remains a reasonable concern the person would still be at risk, they can apply for UK residency.
At this stage, Manit said he doesn't expect any serious effort by the military government. A staunch critic of Yingluck, Manit believes in the conspiracy theory that had the junta letting Yingluck leave Thailand last year to avoid her becoming a potent jailhouse symbol to rally her base. Junta figures have roundly denied the claim.
The Supreme Court's Section for Political Office Holders in September convicted Yingluck in absentia for malfeasance and sentenced her to five years in prison over corruption in a rice subsidy program that occurred under her watch.
"I don't know if they're serious in trying to get her," said Manit, who's not convinced that the military regime wants Yingluck imprisoned in Bangkok. "They have to make noise [about Yingluck being in London] to make people feel like they had nothing to do with it. It's a little too soap-opera like."
Deputy Prime Minister Gen. Prawit Wongsuwan said Monday that police and the Foreign Ministry would look into the matter.
Manit also asked why the United Kingdom would aide a fugitive from justice such as Yingluck.
"Is it not double standard?" said the well-known 56-year-old photographer and owner of Bangkok's Kathmandu Photo Gallery.
He added that he no longer has any hope of seeing Yingluck extradited.
As for Ekachai, he predicts many Yingluck supporters would flock to London to try to see her. Asked if Yingluck would become politically active from exile or not, Ekachai said that's up to Yingluck.
Manit thinks it's up to how the public reacts to her presence in London – and her elder brother Thaksin Shinawatra, himself an ousted and fugitive former premier.
"She's probably not doing this alone but must watch the signals from her brother," he said.