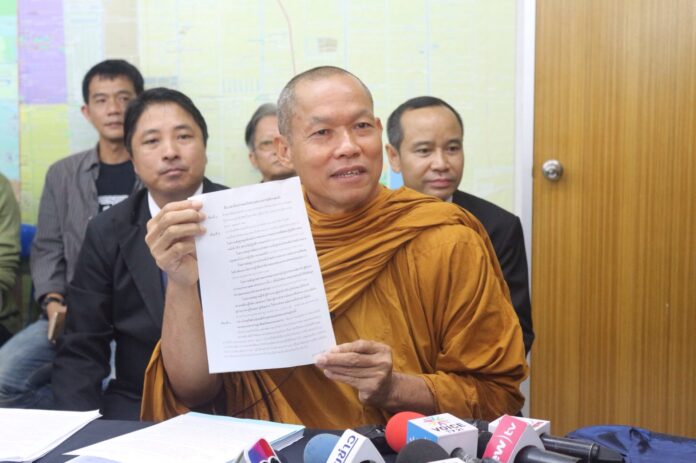 BANGKOK — An investigation into a royal defamation case involving a controversial activist monk is proceeding, but police have yet to name any suspect, a senior official said Wednesday.
A controversial activist monk Tuesday denied defaming the monarchy by selling unauthorized amulets, though police said he is not even officially a suspect in their investigation.
Buddha Issara, a firebrand monk who helped lead street protests that resulted in the 2014 coup, denied the allegations at a meeting with police. He also told reporters he heard of a planned raid on his temple by police commandos, an accusation officers dismissed as unfounded.
"He keeps talking like this. The media already knows how he is. You know he's been like this for a long time," Col. Phumin Pumpanmuang, a commander of Crime Suppression Division. "Whatever he wants to speak, it's his rights."
He added that the case has yet to have any suspect, and Buddha Issara is merely considered a person of interest.
A Buddhist group filed a royal defamation complaint to police in April, accusing Buddha Issara of making amulets bearing royal insignia without permission from the palace. Buddha Issara, who was born Suwit Thongprasert, denied the allegation.
The monk met with police Tuesday to give his testimony, but he did not tell reporters what he said in the meeting. Phumin also declined to disclose what the two parties discussed.
"This is an ongoing investigation," Phumin said.
Any sign of disrespect toward the monarchy is harshly punished. Claiming false ties to the palace or forging palace-issued goods has led to serious charges in the past.
Known for fiery rhetoric that has verged on incitement of violence, Buddha Issara helped lead street protests against the civilian government in 2013 alongside other opposition politicians and activists.
He famously led crowds to occupy parts of Government Complex and demand a hotel give him 120,000 baht for not accepting his bookings.
The protests, during which at least 20 people died, culminated in a military takeover in May 2014.