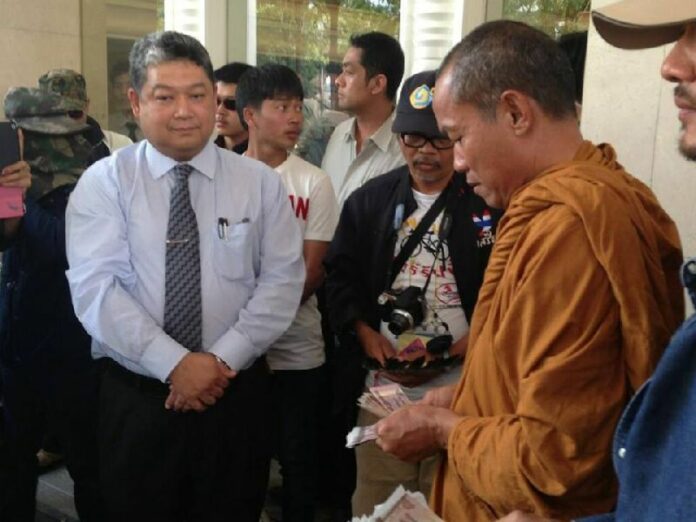 BANGKOK  — An anti-government Buddhist monk activist has coerced a hotel into paying him 120,000 baht in "compensation" money after the hotel cancelled his reservation.
Buddha Issara, a core leader of the People′s Committee for Absolute Democracy With the King As Head of State (PCAD),  has previously vowed to besiege properties and businesses which he believes are allied to former Prime Minister Thaksin Shinawatra.
The monk led protesters out of their campsite on Chaeng Wattana Road at around 11.00 today before stopping for a brief rally in front of Shinawatra Tower 3 on Viphavadee Road, where a number of companies co-owned by the Shinawatra family are headquartered.
The convoy later left the building at around 11.45 without a clear destination, causing some demonstrators to lose their way among Bangkok traffic. Some marchers decided to head for other PCAD campsites instead.
But the main group of PCAD demonstrators eventually stopped at SC Park Hotel, another business subsidiary of the Shinawatra family. A brief fistfight ensued when a hotel employee took pictures of the protesters. He was instantly mobbed by PCAD guards and instructed to delete his photos, claiming that only registered journalists are allowed to photograph the protests.
At the hotel, Buddha Issara and his close aides attempted to enter the lobby and occupy the building, but hotel managers stopped the group at the entrance, prompting Buddha Issara to inform the managers that he had reserved 10 rooms in the hotel for his stay.
The monk presented a receipt of the reservation in which he paid 4,200 baht for booking fee, and told the managers that PCAD had also reserved the conference room of the hotel for a lecture event on the government's rice-pledging scheme.
When the managers refused to allow Buddha Issara to enter, he offered to book the entire hotel, an offer the managers once again refused.
The monk later gave up his attempt to enter the hotel and instructed his guards to block the building's entrances instead. Fearing clashes, many guests checked out and left the venue, and the hotel management closed down the hotel entirely at 13.15.
SC Park managers also offered to return the booking fees to Buddha Issara. However, the monk refused, insisting that the hotel compensate him for wasting his time and cancelling his booking. He also threatened to file a lawsuit against the hotel.
The managers eventually paid Buddha Issara 120,000 baht in cash as compensation. After counting the money in his hand, Buddha Issara declared that the protesters′ mission has been accomplished and ordered the demonstrators to leave the hotel.
PCAD marchers left the hotel at around 13.45.