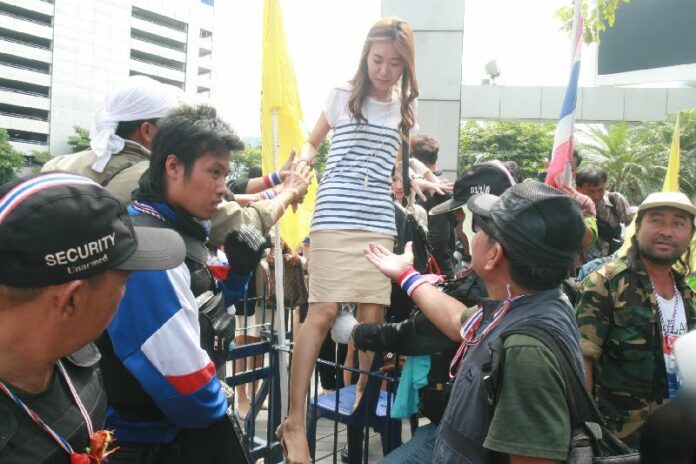 (20 February) A representative of the telecommunications giant AIS insisted that the company is unfazed in the face of boycott campaigns by anti-government protesters.
The People′s Committee for Absolute Democracy With the King As Head of State (PCAD) has previously announced the crusade against all business subsidiaries owned or co-owned by former Prime Minister Thaksin Shinawatra and his clan, such as AIS and SC Asset.
PCAD leader Suthep Thaugsuban also urged all investors and stockholders of Shinawatra-allied businesses to withdraw their shares from the companies in order to starve the Shinawatras financially.
Many anti-government protesters view Mr. Thaksin as an anti-monarchy corrupt politician who continues to rule Thailand via his sister, Prime Minister Yingluck Shinawatra, as a puppet. Mr. Thaksin was ousted by a 2006 miltiary coup and has been living in exile since he was convicted of corruption in 2007.
However, Ms. Nattiya Puapongsakorn, Chief of Investor Relations Department of Advance Info Service (AIS), expressed her belief that many investors have already acknowledged the foundation and history of the company, and would not be influenced by PCAD leaders without carefully considering all investment possibility.
She also stated that numbers of AIS customers have not decreased in 2013 at all despite the political turmoil and anti-government protests.
Ms. Wilai Kiangkoo, AIS Senior Deputy Board Manager, added that the company is not worried by the protesters′ threat. Recently, she said, AIS paid their shareholders an interest of 12.15 baht per share, which indicates the company good performances.
However, she said that the company will closely monitor the situation.
AIS also announced via instant message application 'LINE' to its customers that it does not have any political stances, and that the original founders of the company are not currently holding any managing position in the company.
The company also declared that it operate its business on the basis of professionalism, transparency, and good governance, which should encourage investors to continue investing with the company.
Earlier today employees at Shinawatra Tower 3, which housed the headquarters of SC Asset, were forced to evacuate after a large group of PCAD demonstrators besieged the building.
Traffic on Viphavadee Road descended into a heavy congestion as a result.
The building security team chained the entrance and barricaded the perimeter to bar any protesters from trespassing into the office. After hours of rally and speeches denouncing the Shinawatra family, the PCAD protesters dispersed from the area without any reported act of violence.
Nevertheless, Mr. Suthep said he will continue to disrupt and besiege Shinawatra-allied businesses in the future.
For comments, or corrections to this article please contact: [email protected]
You can also find Khaosod English on Twitter and Facebook
http://twitter.com/KhaosodEnglish
http://www.facebook.com/KhaosodEnglish