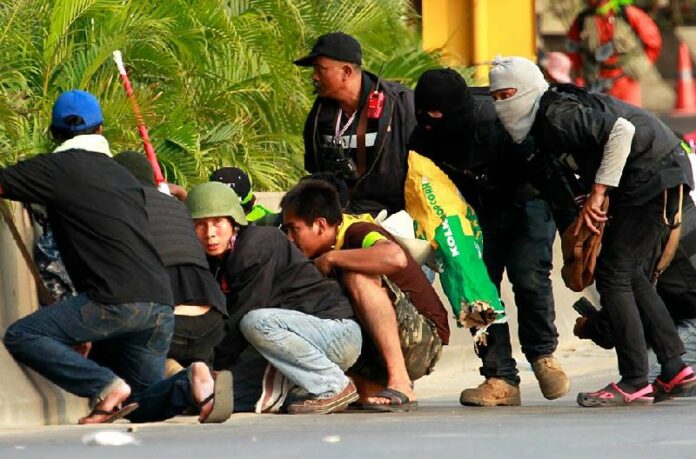 (20 February) Anti-government protest leader Suthep Thaugsuban has delivered a thinly-veiled threat that Redshirts supporters might face armed militants allied to his movements.
Mr. Suthep, leader of the People′s Committee for Absolute Democracy With the King As Head of State (PCAD), said at a rally stage in Bangkok′s Silom district that he has been informed about the Redshirts′ upcoming rally to intimidate the PCAD supporters on this Saturday.
"Go ahead. Come. The popcorn vendors have already prepared the popcorns for you," Mr. Suthep said, "Don′t blame me if the vendors serve popcorns at you".
The popcorn was a reference to unidentified militants who appeared among PCAD protesters with military-grade weaponry which they hid in a popcorn bag during a standoff with pro-government protesters in Laksi district on 1 February – a day before the snap election was held.
Several people have been injured by the gunfight, in which the PCAD militants apparently outgunned the pro-government protesters. "Popcorns vendors" has since become a euphemism among the protesters to describe the mysterious gunmen.
"In the past, they have retreated as soon as they encounter 4-5 popcorns vendors," Mr. Suthep continued, adding that the Redshirts leaders should summon their supporters out to contest the PCAD protesters "so that it will be over quickly".
He stressed that the PCAD is not affiliated with the gunmen in any way, however.
"We don′t [personally] know these popcorn vendors," Mr. Suthep told the crowd, "But let me say I love them so much".
For comments, or corrections to this article please contact: [email protected]
You can also find Khaosod English on Twitter and Facebook
http://twitter.com/KhaosodEnglish
http://www.facebook.com/KhaosodEnglish