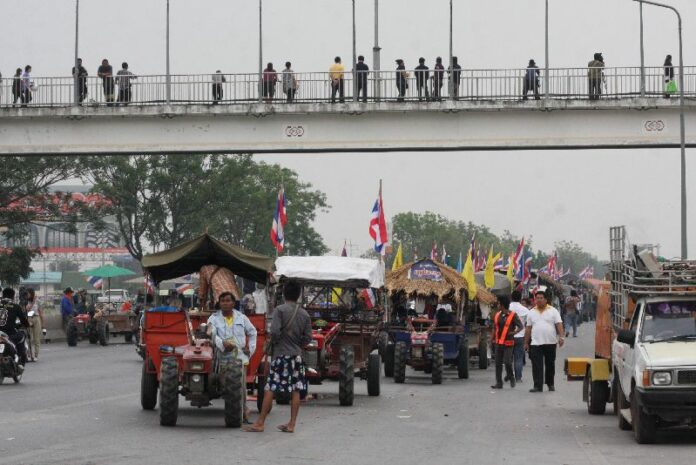 (21 February) Farmers who have marched to Bangkok to demand payment from the government for their mortgaged rice have dropped their threats to seize the city's main airport.
The rice protesters arrived in the northern suburb of Rangsit district last night after a motorised march on their farming tractors from Ayutthaya. They claimed they had not received the payment they were promised under the government′s rice-pledging scheme for month, and they had no choice but to express their demands via the protests.
Although the scale of the farmers′ demonstration pales in comparison to anti-government campaign led by the People′s Committee for Absolute Democracy With the King As Head of State (PCAD), the farmers have drawn much attention after their leader threatened to occupy Suvarnabhumi Airport by today′s afternoon.
The announcement strokes fears that Thailand could see a repeat of the protest in 2008, in which anti-government protesters seized both Suvarnabhumi Airport and Don Mueang Airport, causing massive disruption to the country′s air transportation.
Responding to the threat, administrators of the Suvarnabhumi Airport and the Airports of Thailand Company (AOT) assigned a large stretch of road near the airport as a protest ground for the farmers; officials hoped they would successfully convince the demonstrators to rally close to the airport rather than directly besieging the building itself.
Nevertheless, a number of riot police and soldiers were stationed at the airport in case of emergency.
But the tension was defused today when leader of the farmer protesters, Mr. Chada Thaiseth, a former MP of Chart Thai Pattana Party, said he has personally consulted with Prime Minister Yingluck Shinawatra yesterday about the farmers′ distress, and he has been assured by Ms. Yingluck that the rice payment would arrive by next week.
Explaining that he is satisfied by the Prime Minister′s response, Mr. Chada urged the farmers to call off the protests and return to their home districts.
However, Mr. Chada also threatened to come back to Bangkok and besiege Suvarnabhumi Airport if the government breaks it promise.
For comments, or corrections to this article please contact: [email protected]
You can also find Khaosod English on Twitter and Facebook
http://twitter.com/KhaosodEnglish
http://www.facebook.com/KhaosodEnglish