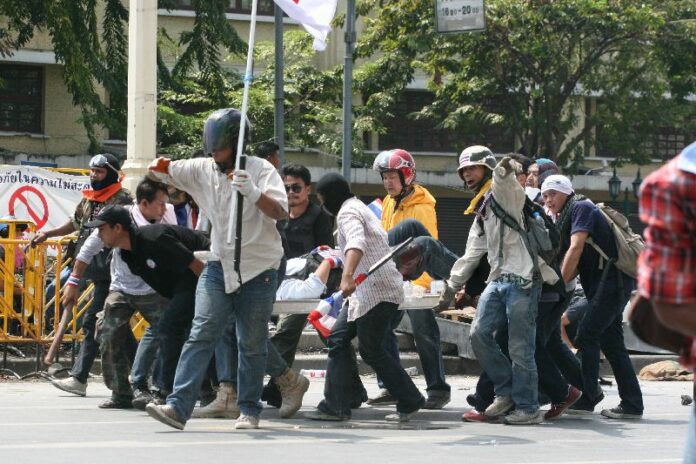 (21 February) The Commander-in-Chief of the Royal Thai Army is not aware of any details concerning the shadowy armed militants allied to anti-government protesters, his close aide said.
"He doesn′t know any details about it," Col. Kullachart Ditsakul said of his boss, Gen. Prayuth Chan-Ocha, adding that it is up to related authorities to investigate the matter.
Col. Kullachart was speaking at 2nd Cavalry Division headquarters in Bangkok.
Four civilians and one policeman were killed in the deadly clashes on Ratchadamnoen Avenue on 18 February. The violence erupted after the police attempted to disperse anti-government protesters from the avenue, and saw police officers exchanging gunfire with armed militants who were apparently allied to the protesters.
Some pro-government critics have alleged that the military might somehow be involved in their presence. But Col. Kullachart bridled at such rumour when a reporter mentioned the speculation.
"You need to have clear evidence when you talk about something," Col. Kullachart complained, "You shouldn′t say baseless things, because the country and the people might be confused".
He added that Gen. Prayuth is nevertheless alarmed by "use of military-grade weapons in the operation" and feels that the actions of all sides should be conducted according to the laws. Col. Kullachart did not elaborate.
For comments, or corrections to this article please contact: [email protected]
You can also find Khaosod English on Twitter and Facebook
http://twitter.com/KhaosodEnglish
http://www.facebook.com/KhaosodEnglish