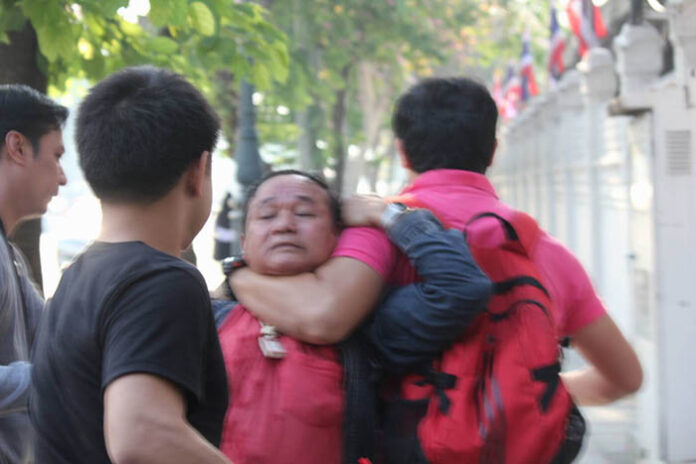 BANGKOK — A man was arrested Friday after attempting to punch an activist who has been staging daily protests over a junta boss' collection of luxury watches at the Government House.
Rittikrai Chaiwannasan, 56, was charged with physical assault and carrying a knife in public. A police official said undercover officers stopped Rittikrai just in time before he harmed activist Ekachai Hongkangwan.
"He didn't get to punch Ekachai," Dusit station chief Jakkrit Chosungnoen said. "I think officers did well in this case. They were able to intercept him."
Police found a pocket knife on Rittikrai, Col. Jakkrit said, adding that he would be brought before a court today.
For the past week, Ekachai and a friend have maintained a two-man protest in front of the Government House to draw attention to the ever-growing number of undeclared luxury watches spotted on deputy junta chairman Prawit Wongsuwan's wrist.
Ekachai said today's protest started off as normal. He arrived at the bus stop at about 8:45am, he said, and undercover police who usually trail him in town followed as he made his way to the entrance of the building that is the prime minister's seat of power.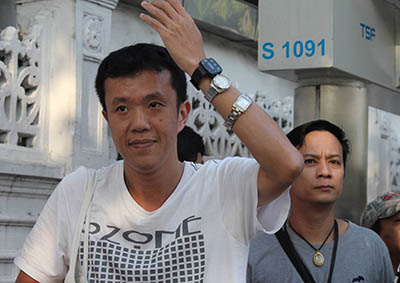 Ekachai said a man violently pulled his shoulder and threw a plastic coffee cup at him, prompting nearby officers to tackle the assailant and drag him away.
"If police didn't get him in time, something more serious may have happened," Ekachai said.
Col. Jakkrit said Rittikrai was being questioned about his background and motives as of publication time. However, Ekachai – a former lese majeste convict who has had numerous run-ins with law enforcement for his political stunts – said he was convinced his attacker was acting on orders from the government.
"He was definitely sent to do it," Ekachai said. "In the past, I've encountered this kind of thing before, but at most they were just pointing at my face and scolding me. In this case, he closed up on me, even though there were many policemen. Someone was definitely behind it."
Gen. Prawit has been under pressure to explain how he acquired a great number of multi-million baht watches – the latest count put them at 25 – and why he did not declare them among his mandatory asset disclosures as required by anti-graft law.
At a Tuesday news conference, Prawit said he borrowed the timepieces from unidentified friends, an explanation met with much ridicule by the public.
The 72-year-old junta strongman declined to answer reporters' questions today about the attempted assault on Ekachai.