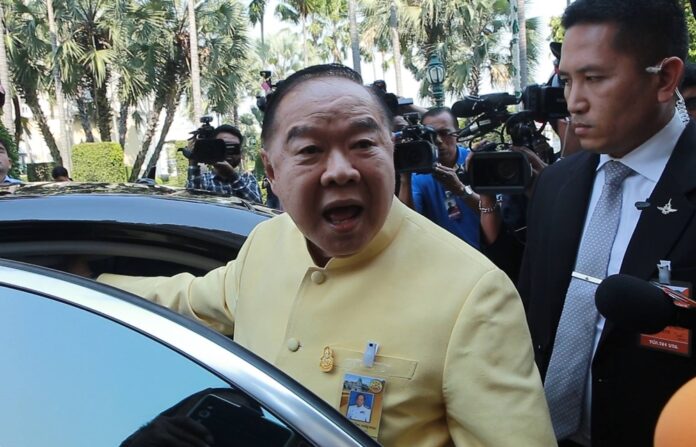 BANGKOK — The national anti-graft agency suggested Wednesday that deputy junta chairman Prawit Wongsuwan may be in the clear for failing to declare the many expensive watches he has been spotted with.
A top executive at the National Anti-Corruption Commission, which has ostensibly been investigating whether Prawit broke the law by failing to declare dozens of watches, many worth over a million baht, said the general could have borrowed the timepieces from his friends as has been claimed.
"In our general principle, the assets that you have to declare must be yours," Worawit Sukboon said at a news conference, prompting questions about whether that pertained to borrowed items. "If it's not yours, then you don't have to notify the NACC."
He added, "So the NACC must look into the facts and find out whether he [Gen. Prawit] was the true owner of those items."
Under great scrutiny from the public – and pressure from a military regime that has reflexively closed ranks around its own touched by allegations of corruption – the commission has been criticized for being incapable of conducting a fair investigation.
After junta chairman Prayuth Chan-ocha scolded reporters Tuesday for asking about Prawit's watches, calling it "personal issues," transparency activist Veera Somkwamkid slammed the comment as "immoral and irresponsible."
"This is not a personal issue. This is an issue that he wants to hide," Veera said Monday morning in an online post. "If he was honest and transparent, why didn't he declare it in a report to the NACC?"
Worawit stressed that the investigation into the watches was not over, though he declined to say when it would. He said the commission is waiting to question a "key witness" in the case, who he said would return from overseas next week. Worawit refused to name the witness.
"We cannot yet reveal the details," Worawit said. "Please wait for the results to come out."
The news conference was crashed by a man who attempted to give an image of the "see no evil" three monkeys to Worawit, but was promptly stopped by security guards. The man was later identified as an activist who goes by the name Ake Auttagorn.
Prawit, 72, has come under intense pressure to explain how he acquired at least 25 luxury watches that he was seen wearing on multiple occasions in recent years, and why they were not listed in mandatory asset reports as required by the law.
As of Wednesday morning, the hashtag #FriendsWatches, was trending on Thai Twitter.
The general told the press 16 Jan. that he'd borrowed the watches from friends and had already returned them, an explanation met with much derision from the public. On Tuesday he refused to answer reporters' questions about the investigation.
The anti-graft commission has been panned by transparency watchdogs for appearing reluctant to take legal action against Prawit. Commission chairman Watcharapol Prasarnrajakit is especially criticized for his close ties to Prawit and refusal to recuse himself from the proceedings.
At today's news conference, Worawit said Watcharapol had changed his mind and would now step back from the investigation for the sake of impartiality.