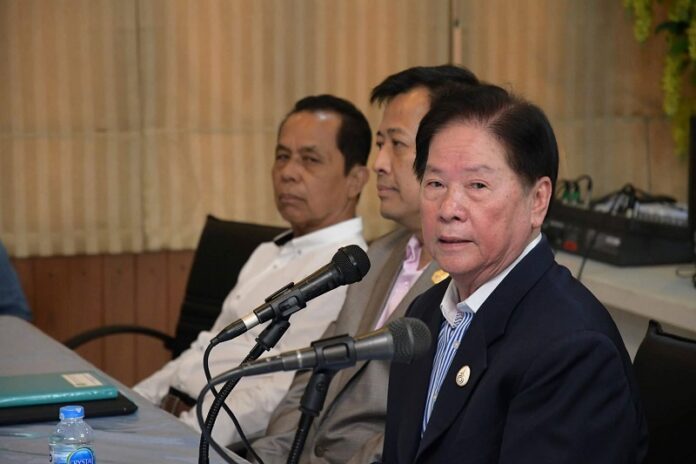 BANGKOK — Months of speculation about a possible party emerging to support the junta leader's return to power during the next election were fueled Tuesday with the launch of a new political movement.
Samphan Lertnuwat, 77, de facto leader of the new Citizen Power Party, said his yet unregistered organization would discuss supporting Gen. Prayuth Chan-ocha as prime minister after elections are held, possibly next year.
"We have yet to discuss it," Samphan said, adding that they would meet to discuss it after the party registers in March – and the junta lifts its ban on political activity.
"Personally, I think it's a long way off. I don't know if [Prayuth] would wish to continue or not. His excellency may or may not be fed up," Samphan said.
What policies will the party promote? The eight-time MP, who's in a previous military surrogate party, espoused values reminiscent of Prayuth's message of reconciliation and unity.
"We are fed up with conflict, so we must be neutral," Samphan said.
Then there's the party's stress on helping the poor. Samphan said poor people see themselves being forced to pay much higher interest rates than wealthier people.
"They pay interest of 10 to 20 percent per month instead of 9 to 10 percent per month," Samphan said, referring to the rate charged by loan sharks for the kind of informal loans available to those the banks turn away.
"We will primarily help the lower class, particularly in the rural areas," he said.
As for its membership, the party will be comprised of about 30 former members of parliament.
Samphan himself began his political career with the Democrat Party in 1986 and has since swapped allegiances between a number of parties over the decades. Notably he was a member of Samakki Tham, or the Justice Unity Party, the original pro-military party. In 1991, Samakki Tham helped seat then-military dictator Gen. Suchinda Kraprayoon as prime minister for a short period before a bloody revolt in May 1992 that ended the strongman's political career. Under Suchinda's government, Samphan was a deputy commerce minister.
Samphan was also a deputy leader of the disbanded People's Power Party, the precursor of today's Pheu Thai Party.
Samphan announced the new party Tuesday morning from his Bangkok home alongside Ekaporn Rakkwamsuk, another key member of the new party. Ekaporn, 56, is a former deputy labor minister who served under Prime Minister Chaovalit Yongchaiyuth in the mid-1990s.
Samphan said, without naming names, that some 20 of the 30 ex-MPs expected to join the party are from the northeast, home to the nation's poorest and junta rival party Pheu Thai's political base.