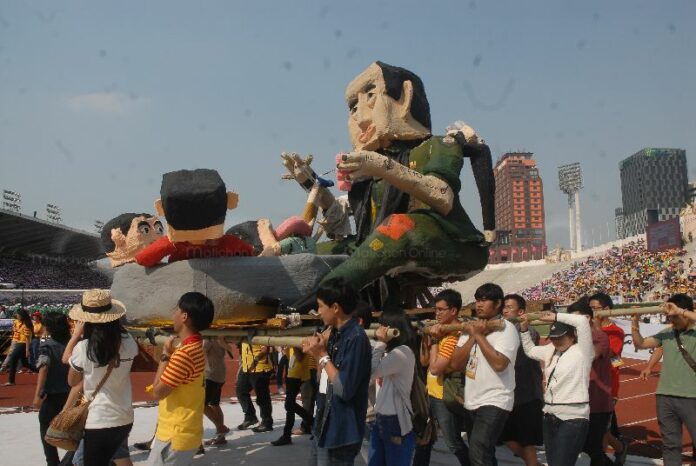 BANGKOK — A student in charge of a traditional parade satirizing politics planned for tomorrow's highly anticipated football match said everyone should prepare for a surprise.
Third-year student Lattapon Yimlamai said despite rumors the parade floats would be censored by the authorities during the opening ceremony of Saturday's Chulalongkorn-Thammasat game, he's unaware of any such order. Everything is going ahead as planned, Lattapon said.
"It's going to be on political topics. I want you to wait for the event day. It's a surprise," Lattapon, who's studying political science, said when asked what was in store. "We had fun planning this."
The annual match, which pits two of Thailand's most prestigious universities against each other, is part of a longstanding rivalry dating back 72 years. As part of the tradition, the game's opening ceremony is accompanied by parade with floats offering commentary on political and social issues of the day.
The audience often joins in by holding cards to spell out provocative or humorous messages.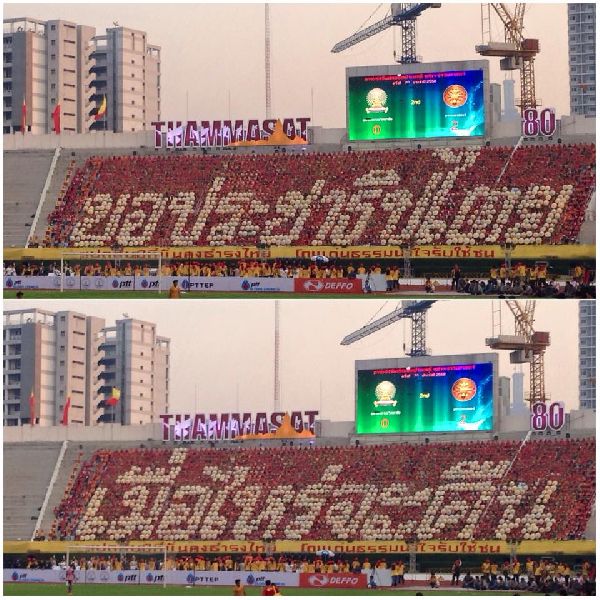 The host of the game alternates every year; this year sees Thammasat organize the festivities for the event at the National Stadium. That means Lattapon and his friends are in charge of the float designs. The student said he helped organizing similar parade when he was a freshman.
Last year's match was canceled because of King Bhumibol's death, which sent the country into a year of mourning.
Any public challenge or criticism to the junta's rule remains banned under its order. Media reports on Friday quoted unnamed sources saying the junta has asked Saturday's parade organizers not to mention any political scandal, such as the controversy over deputy junta chairman Prawit Wongsuwan's many luxury watches.
Both Lattapon and Thammasat vice rector Orapan Poachanukoon said they have not received any such order.
"No one has talked to the administrators or the students at the moment," Orapan said. "Thammasat values every side of creativity and opinion, not only in politics, as long as they are legal. The students also know what the laws say. So this is a personal issue that the university will not interfere."
She added that security forces are welcome to observe the parade, and said the authorities should understand students only want to express themselves.
"They feel frustrated and they want to express their opinion. They want to show their creativity," Orapan said.
Junta spokesman Winthai Suvaree said the regime is not censoring what the students can say or do tomorrow, though he suggested that local law enforcements may choose to talk to the organizers.
A previous Thammasat-Chulalongkorn match in 2015 opened with a scuffle between undercover security officers and parade organizers in an attempt to stop the parade, which featured disguised floats that once fully revealed openly mocked junta leader Prayuth Chan-ocha and other figures.
Lattapon said he didn't expect any violence this year.