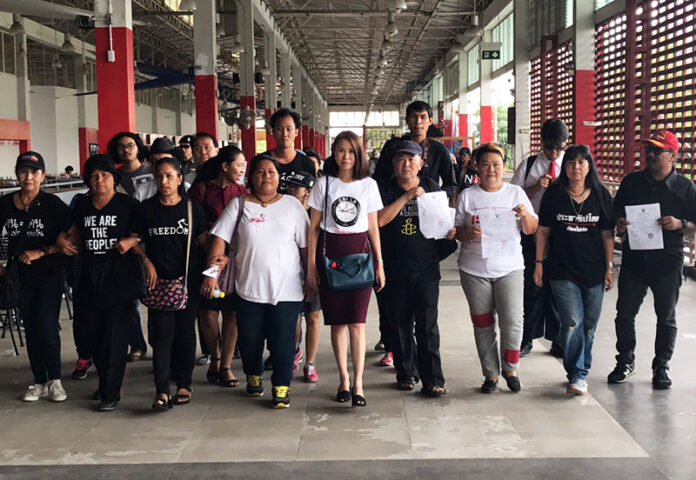 BANGKOK — One of the striking aspects about Wednesday's charges against 39 pro-democracy activists was the junta's rare enforcement of a law that bans protests near royal palaces.
While seven protest leaders were charged with sedition and violation of the ban on political gatherings of more than four people, 32 others were merely charged with holding the Jan. 27 protest at Pathumwan intersection skywalk, located within 150-meter vicinity of the palace – something they dispute and see as a desperate attempt by an increasingly unpopular junta to retain power.
This breach of Article 7 of the Public Assembly Act passed by the junta-appointed National Legislative Assembly in 2015 could see violators face six months in jail or a fine of up to 10,000 baht, or both.
Yaowalak Anuphan, head of Thai Lawyers for Human Rights, said the speed with which charges were pressed and summon letters were issued – via express mail – was unusual.
After nearly four years under military rule and many having given up on the junta relinquishing power, some finally sense that now is the time.
Nithinand Yorsaengrat, a former veteran journalist, think these are signs that the military junta is overreacting because it is wounded, vulnerable and becoming increasingly nervous.
"I am confident that it will make the government collapses more quickly," Nithinand wrote on her Facebook page Wednesday, referring to the charges pressed against the 39.
Scandals such as the one afflicting deputy leader Gen. Prawit Wongsuwan mean the public is no longer willing to tolerate the umptieth postponement of general elections. The outcry frightens the junta, who fears its opponents could be smelling the blood.
Such is the pressure, that in December, Privy Council President Prem Tinsulanonda told junta leader Gen. Prayuth Chan-ocha he had exhausted all his support base, hinting that he is running out of cards to play.
Charged protesters such as prominent activists Rangsiman Rome and Sirawith Seritiwat, or Ja New, both leaders of Democracy Restoration Group, vowed to stage an even larger protest Feb. 10 at Democracy Monument to demand elections by November.
"Frankly speaking, if we don't chase the [junta's] tyrannical dictatorship out, they will repress people like us. I won't back down on Feb. 10. Startup People Power," Sirawith wrote on Facebook on Tuesday after learning he had been charged.
Democracy Monument, the site of the planned protest, has since the 1970s been a symbolic venue for anti-military protests.
Among the 39 charged with violating the public assembly act was Yellowshirt firebrand Veera Somkwamkid, who joined the Jan. 27 protest after becoming disenfranchised with military rule, a sign that an anti-junta coalition is widening beyond Redshirt groups.
Thammasat law expert Prinya Thaewanarumitkul is another example of people outside the anti-junta Redshirt camp growing critical of the junta's grip on power – which will clock four years in May.
On Wednesday, Prinya posted on Facebook that sovereign power is no longer in Prayuth's hands because Article 3 of the 2017 junta-sponsored constitution clearly states that power rests with the people.
With a growing coalition of people disapproving of its rule, the junta is taking hardline measures to instill fear and snub a renewed movement against it, prominent pro-democracy activist Sombat Boonngam-anong said. Sombat is among the 39 charged with protesting near Sra Pathum Palace.
"I think it's about their fear of the Feb. 10 [protest]," Sombat said, referring to the next planned protest, due to demand the junta it honors its election dates previously slated for November.
Sombat said they are scaring the "little people" who may consider joining the protest on Feb. 10 through the use of the Public Assembly Act.
"But will it work?" Sombat said.
Feb. 10 will be a litmus test as to whether anti-junta sentiment can galvanise and pose an existential threat to the military regime. As Prem said, after nearly four years in power, Prayuth's poker hand is running out of aces.