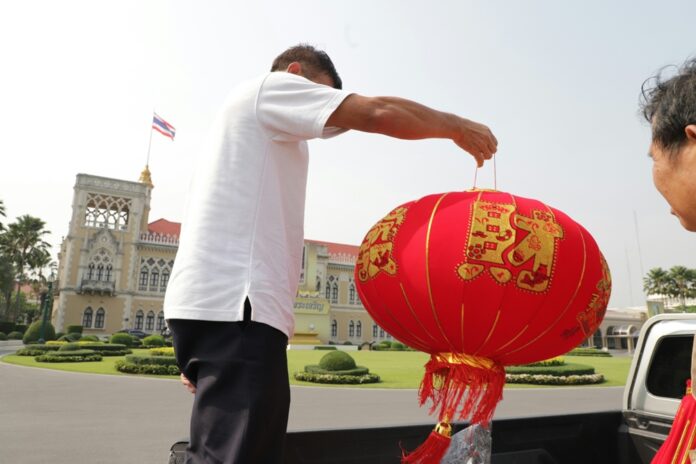 BANGKOK — The government would like to clarify something: No, the lucky red lanterns placed Thursday afternoon at the prime minister's office are not meant to deflect bad mojo brought down by the breaking of a lucky lotus bowl.
What some are calling an attempt to reverse bad fortune, deputy prime minister Wissanu Krea-ngam maintained the lanterns are strictly for observing Chinese New Year, which began Thursday and will peak Saturday.
"Personally I don't believe in this kind of thing," Wissanu told reporters Friday. "Decorating with Chinese lanterns is not a strange thing to do, because Chinese New Year is now an international festival."
Read: Lotus Basin Placed in Prayuth's Path For Greater Fortune Breaks
When a reporter pointed out that the Chinese New Year has never been recognized before this year, Wissanu said there's a first time for everything.
"It may be strange when we do it the first time, but it won't be strange after," he said. He further suggested the government may also deck the halls of power with Christmas or Songkran themes this year.
Rumors of metaphysical misfortune have spread after a car crashed into one of several lotus basins placed by aides to junta chairman Prayuth Chan-ocha last year to boost his fortune. The crash broke the bowl into pieces – a harbinger of great misfortune to Sino-Thais, who by custom believe no objects can be broken during the new year holidays.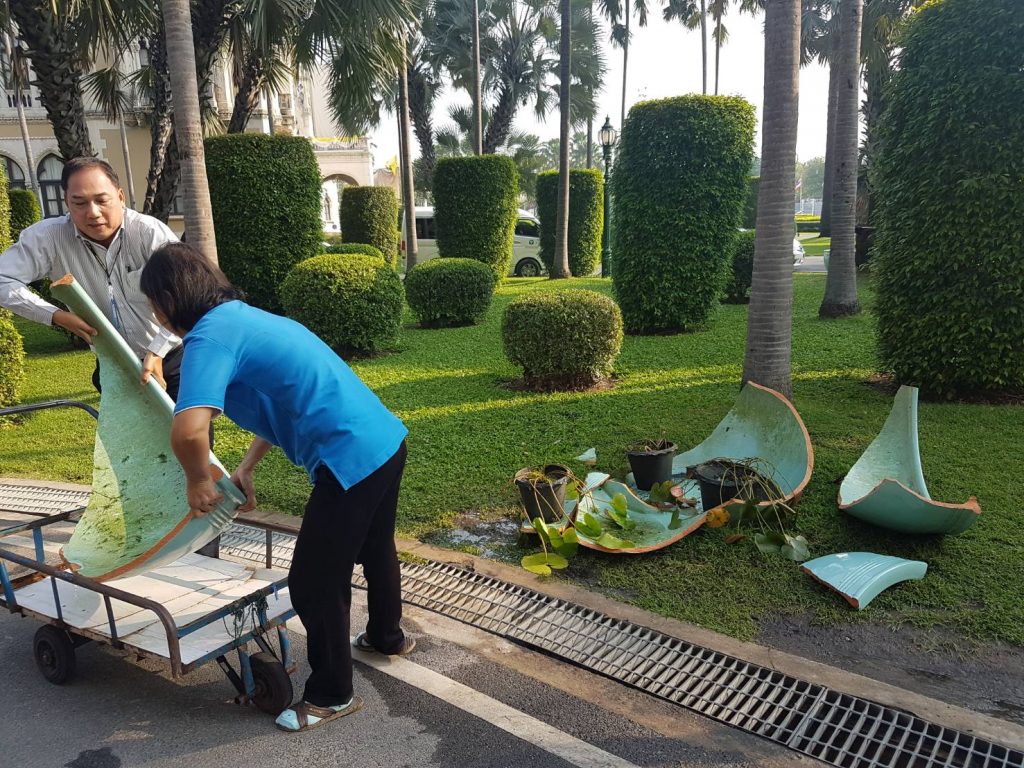 Government House officials later erected red lanterns around the building, causing even further speculation that a feng shui fix was being attempted.
It wasn't the first basin to suffer misfortune. Days after they were placed – apparently along a path traversed by Prayuth – workers were troubled to find one of the basins leaking, forcing Prayuth to buy new one. He used his own money to buy all of the 5,000-baht pots.
The media soon reported the news with headlines warning of imminent "curses" and "bad luck." Some junta opponents seized on the incident to proclaim the government is doomed.
"Definitely a bad portent. Broken basin, broken [corruption], broken faction. The time of armed uprising is almost here," wrote anti-junta Facebook page Kon Thai UK.
"It's a bad portent. I think their inner circle is breaking up," user Joe Cracy said in a comment thread.
The forces of fate and fortune are regular fodder for domestic media, and Prayuth is known to be deeply superstitious. At a news conference in May 2016, he even showed more than a dozen magical amulets worn under his uniform.
The basin broke just days after education minister Teerakiat Jareonsettasin suggested his cabinet counterpart, Deputy Prime Minister Prawit Wongsuwan, should have stepped down weeks ago over a scandal involving his possession of many undeclared luxury watches. It was the first visible rupture among the inner circle of the regime, whose popularity has withered of late.
But professional feng shui master Panuwat Panwichartkul said connecting the basin's demise to   the scandal is fallacious. The bowls placed there by Prayuth's staff were not key to the Government House's feng shui alignment in the first place, he said.
"It's an act of nature. Don't take it seriously. It's like a crow flying or a monitor lizard walking past the Government House," Panuwat, a fortune consultant and author. "Not everything is related to feng shui."
He believes the reason for the seeming division within junta chairman Prayuth Chan-ocha's power clique has more to do with the ages of the men involved.
"Chinese astrology believes that ages which end with 3, 6 and 9 are unfortunate," Panuwat said, noting that Prawit will turn 73 this year. Prayuth is 63.