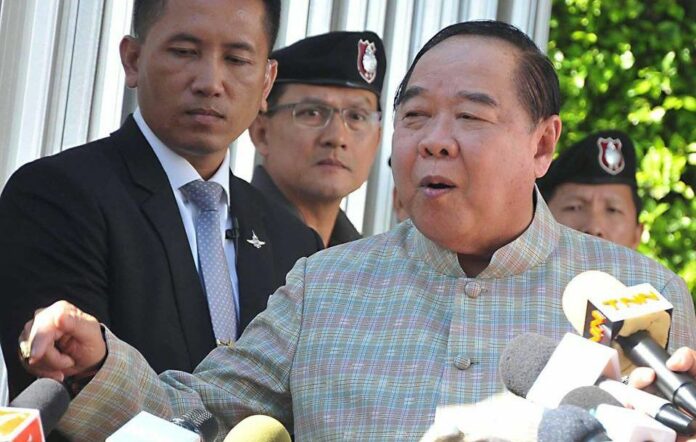 Update: Education minister Teerakiat Jareonsettasin said Tuesday afternoon he had apologized to Prawit Wongsuwan. Contrary to rumors, he added that he would not resign.
BANGKOK — Imagine bad-mouthing a colleague and realizing you've got a face-to-face meeting the next day. Awkward much?
That's exactly what happened to education minister Teerakiat Jareonsettasin, who criticized a fellow cabinet member and deputy prime minister over the collection of luxury watches that have mired him in an embarrassing scandal.
"About these watches, if it's me who was exposed, I would have quit after the first watch," Teerakiat said in an interview with BBC Thai, which featured an audio clip of his remarks. "That's me. As for what other people would say, you have to ask them."
He continued, "People are too afraid to speak about this. What are they afraid of? Now that I spoke about it, are they going to fire me for it?"
Teerakiat hasn't been fired. But the interview, published Monday, surprised many on social media, not least because Teerakiat is now the most high-profile figure to come out publicly against the junta No. 2 for the watches scandal. It also came one day before the weekly cabinet meeting both were to attend.
Asked if he feared his comment would spark division, Teerakiat was unapologetic.
"It's my opinion. It's not a cabinet opinion. Does it mean I have to always think like other people wherever I am? Even my kids don't think the same way I do," the minister told BBC Thai.
But aides said Teerakiat would not attend today's conference, without citing any reason. Junta chairman Prayuth Chan-ocha and other ministers, including Prawit himself, declined to answer reporters' questions as they arrived for the meeting whether the interview exposed a rift in the heart of the regime.
Teerakiat could not be reached for comment as of publication time.
Transparency activist Sarinee Achavanuntakul commended Teerakiat for speaking out against the junta strongman.
"It's good in terms of showing us that people in the cabinet think independently," Sarinee, a co-founder of investigative news organization ThaiPublica, said in an interview. "We are used to the idea that when someone's in the government, everyone has to think the same. This proves that's not always true."
However, Sarinee said she doesn't expect Teerakiat's chiding to have much of an impact on Prawit, because the retired general has so far resisted calls to resign.
"The people have already clearly expressed their opinion, yet he still ignores them," she said. "This is just an opinion of one person. Why would it be a turning point?"
Starting in December, a crowdsourced investigative group has been identifying luxury watches spotted on Prawit's watches in multiple public events. The timepieces, which have a combined value of over 35 million baht, were not included in a mandatory asset report he filed.
Another critic of the junta questioned whether Teerakiat would go a step further and resign in protest of Prawit's tone-deaf persistence.
"Gen. Prawit Wongsuwan definitely won't quit, but I wonder, would Teerakiat Jareonsettasin continue to stay on without any shame?" activist Thanapol Eawsakul wrote online. "Would he quit from the coupmakers cabinet?"