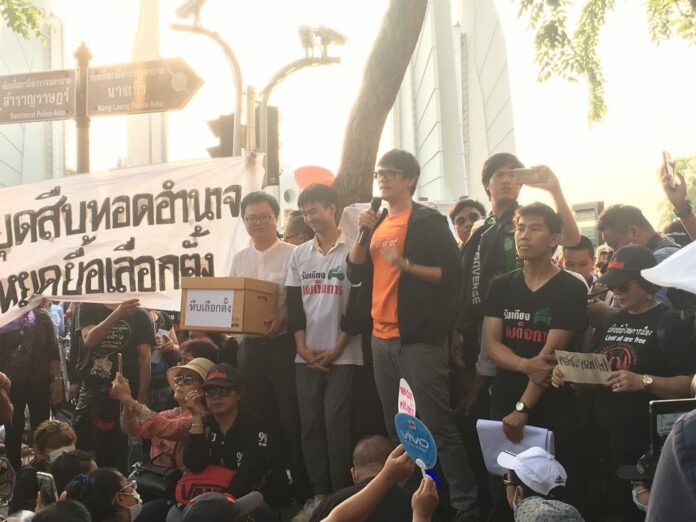 By Asaree Thaitrakulpanich, Teeranai Charuvastra
BANGKOK — Opponents of the ruling junta said Saturday's rally was just the beginning of plans to resist the military regime.
The activists pledged at a protest just opposite Democracy Monument to escalate their campaign if the ruling junta disregards calls for an election to be held this year and the military government to step down.
"Today is just part of our kick-off," protest leader Sirawith Seritiwat shouted into a microphone. "Today people are starting up, they are standing up!"
Sirawith, aka Ja New, spoke in plain sight of the policemen deployed around the protest site who had earlier vowed to arrest him on sight. Arrest warrants for Sirawith and three other activist leaders on sedition and public gathering charges were issued Friday. Police did not make any move to detain them today.
Although the junta's popularity has suffered under the weight of scandal, today's crowd was not much larger than previous rallies.
Before the protest began, a large police presence had been deployed around the monument, the plaza of which was filled with trees.
The police later decamped the site and moved farther away.
Two other activists wanted by the authorities — Rangsiman Rome and Arnon Nampa — also gave speeches lambasting the junta at the rally. The fourth activist, Ekachai Hongkangwan, was arrested in front of his home earlier today.
Friends of Rangsiman, Arnon and Sirawith said the two would will turn themselves in tonight at Pathumwan Police Station.
Rangsiman, a familiar face from many many pro-democracy campaigns and encounters with police was as fiery as ever. His comments focused on urging the youth to rise up.
"Some say politics isn't a children's game. But if the P-clan of Prayuth and Prawit keep on violating us like this, the future will be ruined for people my age!" Rangsiman said.
Arnon spoke to the crowd not only about the plight of protesters charged for a similar rally late last month but also others who've criticized the junta.
Sirawith said that many protesters upcountry had been blocked from traveling to the capital.
"If the authorities were really brave, then take out those blocks and we'll fill all of Ratchadamnoen!" he said, referring to road blockades reportedly erected to prevent people from traveling to the capital.
Karn Pongpraphapan, a fourth-year student from Thammasat University, spoke from the impromptu stage.
"Everyone, let's clap for all the soldiers in the back, in the front, and to the side over here for keeping us so safe!" he said cheerfully, amid cheers.
Protesters passed out a variety of curios including snacks, roses, posters depicting Prayuth as a mosquito laying the eggs of dictatorship and a handbook on how to survive in prison in case of arrest.