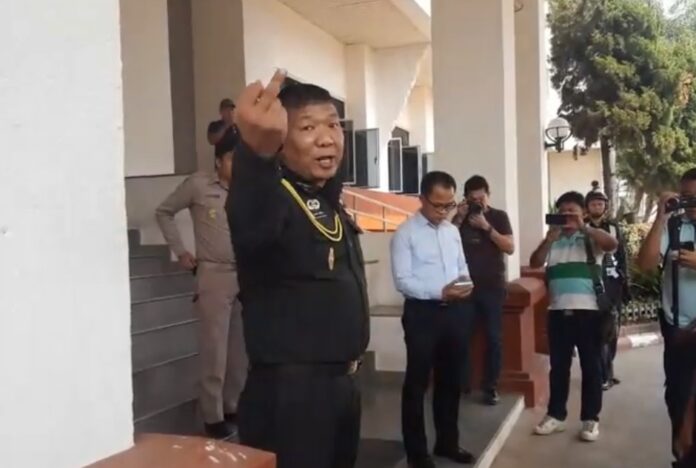 BANGKOK — An army commander apologized Tuesday on behalf of a colonel under his command who gave the middle finger to protesters in the north.
The confrontation broke out at Phayao City Hall after an activist group petitioned the authorities to end prosecution of its supporters. Lt. Gen. Vichak Siribansop, head of the northern army, said the officer lost his cool in the heat of an argument and subsequently "displayed inappropriate action."
"I would like to apologize to the local residents and the media," Vichak told reporters Tuesday.
The general added that the army has put the officer, named in media reports as Col. Thinnachart Sutthirak, under disciplinary review. Vichak said the inquiry would be concluded in three days.
The protesters, led by civil rights group People Go Network, went to Phayao City Hall this morning to call for the dropping of charges against 15 people who gathered there last month as they passed through on a march from Bangkok to Khon Kaen.
https://www.facebook.com/PeopleGoNetwork/videos/1552077444905910/
For the rally, the 15 were charged with violating the junta's ban on protests.
This morning, some of the protesters got into an argument with the colonel, who insisted the authorities weren't going forward with the case against them and called them liars.
"I explained three times already. You won't end this. You won't end this!" the visibly agitated man in uniform said in a live video broadcast by the activist group. "They won't take up the case."
The colonel, who's said to be in the army's intelligence corps, then flashed the middle finger at the camera and walked away.
The video of the incident immediately drew furor online, prompting Vichak, Thinnachart's commander, to apologize.
Defense ministry spokesman Kongcheep Tantravanich reiterated Vichak's assertion that an inquiry panel will look into the soldier's actions.