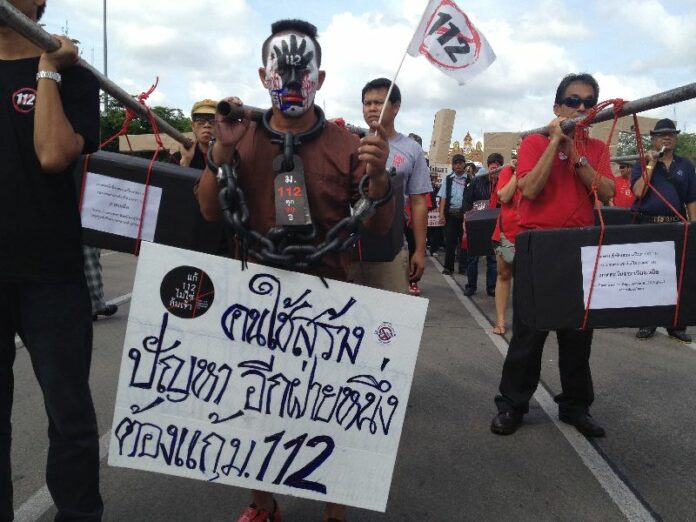 BANGKOK — A pro-monarchy activist said he wants the Election Commission to investigate a new progressive party he fears may amend the royal defamation law.
Sonthiya Sawasdee, a former politician who now heads a group called Federation of Thais Monitoring the State, said Tuesday any attempt to reform the law, known as lese majeste, will bring about unrest in the country.
He said he wanted election regulators to make sure the Future Forward Party does not touch the lese majeste issue and that he holds no personal grudge against the party.
"I'd like to state here, with respect, that I am not intending to obstruct the formation of the New Future Party," Sonthiya wrote online. "But I do not want anyone, no matter who they are, to put their hands on Section 112."
In a petition filed to the Election Commission on Friday, Sonthiya singled out New Future Party co-founder Piyabutr Saengkanokkul as the reason for his concern. Piyabutr, a university law professor, launched a 2012 campaign calling for lesser punishment and a more measured use of lese majeste.
Piyabutr and other party leaders had promised to run on a progressive platform for the next election, with focuses on legal reforms and civil rights extensions – which Sonthiya feared would include Section 112.
"There are many ways to reform the country that the party founders can adopt as their party policies," Sonthiya told reporters Friday. "They should not intrude on the monarchy."
Sonthiya pointed to an election law which bans political parties from engaging in activities that may cause unrest or widespread division in the nation.
In response to Sonthiya's petition, Piyabutr said he campaigned on the Section 112 reform on his own, and that he wouldn't push the agenda on the new party.
"I'd like to insist that I will not get the party involved with the issue about amending Section 112 of the Criminal Code, and I will not push for it within the party," Piyabutr wrote online.