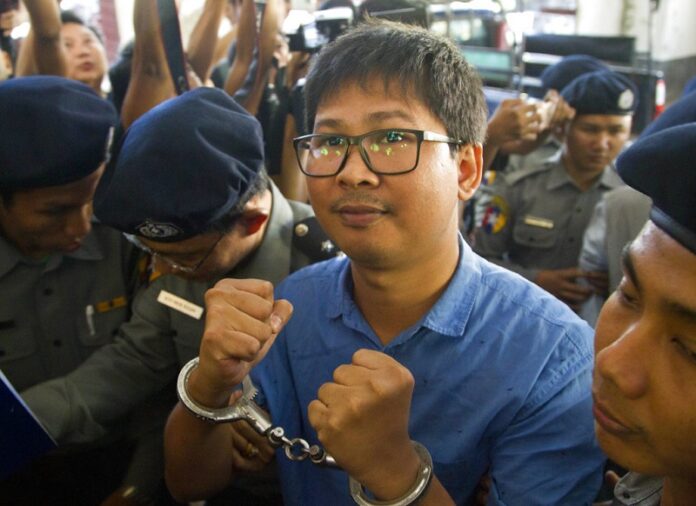 BANGKOK — Nearly four years after the military coup, press freedom in Thailand continues to decline, the spokesman of a legal reform group said Thursday.
Yingcheep Atchanont, program manager at iLaw, said a junta order banning information that may cause "confusion" or compromise national security is sinking Thai press freedom. At an event marking World Press Freedom Day, Yingcheep also spoke of a similar decline in neighboring Cambodia and Myanmar.
Speaking at the panel organized by UNESCO, the Embassy of Sweden and Southeast Asia Press Alliance at the Foreign Correspondents' Club of Thailand, Yingcheep said the order is broad and vague, adding that the National Broadcasting and Telecommunication Commission has used it 52 to fine or suspend television programs since 2014.
"Voice TV was punished 19 times, including a suspension for seven days," he said.
The Thai Journalists Association also marked World Press Freedom Day by calling for the order to be revoked.
Yingcheep said the junta tends to tackle content it deems to affect its security, acknowledging that there does remain space for media criticism of the military government.
"It doesn't mean we can't say anything at all. If the military thinks it will affect them then someone will be arrested," he said. "They don't send the army to use the guns to shutdown the media directly but they use the laws. Common people who express views online can easily be arrested."
Yingcheep said the military junta has also used the sedition law against anyone who expresses views against the military government. He said 94 people have been arrested and prosecuted under the law since the coup.
The maximum punishment under the law is seven years and half the cases go through military courts, the program manager added.
The included speakers from Cambodia and Myanmar.
Vicheika Kann, a reporter at Voice of America's Khmer service, said online freedom is diminishing in Cambodia, where many people have been arrested and jailed.
Kann added that the Cambodian government is trying to adopt new legislation including cybercrime laws on top of its recently adopted lese majeste law, which is having a chilling effect on expression.
"We need to think twice," she said.
In Myanmar, Yin Yadanar Thein, a founder of Free Expression Myanmar, said all journalists surveyed recently that press freedom is in retreat compared to last year
She said there exist two defamation laws punishing offline and online incidents respectively. Yin said are used to protect the government, however.
"They don't want to protect citizens. They want to protect themselves. We have two governments, people's government, another is military government," Yin said, adding that she didn't believe judges were competent enough to take on online defamation cases, as most of them do not know how to use social media platforms. Defamation cases have so far resulted in a near 100 percent confession rate.
Sheen Handoo, Public Policy Manager for Asia-Pacific for Facebook said the social media giant does not proactively monitor content except that related to extremism or child exploitation.
Handoo said Facebook has an undisclosed number of reviewers and staff who can read local languages when they receive reports of hate speech.
"We don't proactively look for content but we review content as soon as we can. Hate speech, whatever the reason, is not allowed on our platform," Handoo said.
Another speaker, Cedric Alviani, director of Paris-based Reporters Without Borders' East Asia Bureau, said the organization is launching a joint initiative to tackle fake news by collaborating with major news organizations including AFP.
"We do not believe in deciding what is true, what is fake," Alviani said, adding that the solution should be regulation by the media industry itself.
Calling it the #FightFakeNews campaign, the organization said combatting disinformation is now one of the biggest challenges for journalism's defenders.
Malaysia is the latest country to have adopted legislation intended to monitor the propagation of so-called fake news. Anyone who breaches the law, which Malaysia's parliament passed April 2, can be jailed for up to six years.
Rights activists have condemned the law, saying it aims to silence critics and discourage discussion about a multi-billion dollar financial scandal involving Malaysia's Prime Minister Najib Razak, who is running for re-election on Wednesday.
A Danish citizen on Monday was the first to be jailed under the law. He is due to serve a week in jail for pleading guilty to purposely publishing false information.
The country's opposition leader, former strongman Mahathir Mohamad, 92, is the latest to be investigated in the wake of next week's election. The former prime minister, who served a 22-year premiership through 2003, claims his chartered flight was sabotaged to bar him from filing his candidacy on Malaysia's Langkawi island.