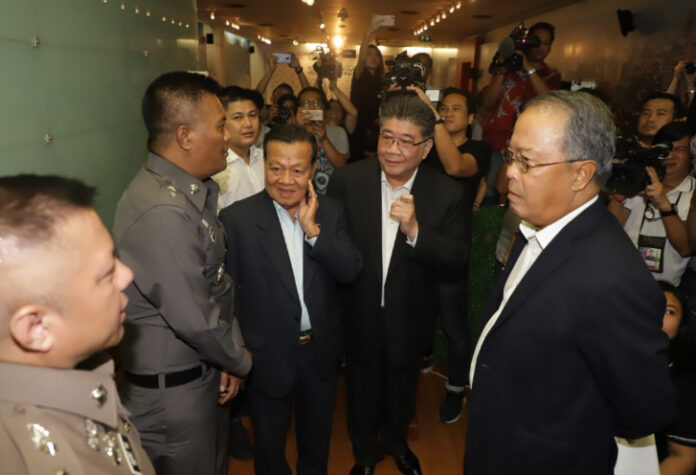 BANGKOK — A junta legal rep said Thursday he will file a police complaint against the Pheu Thai Party for violating the Computer Crime Act and political assembly ban.
Col. Burin Thongprapai's threat was made as the party held a news conference to highlight what it described as seven failures by the military regime four years on since the May 2014 coup d'etat.
Police warned party executives they risked violating the junta's ban on political gatherings of more than four people. The party responded by cutting those at the conference table to two former ministers – Chaturon Chaisang and Watana Muangsook – and Choosak Sirinin, its chief legal officer.
Burin said the politicians not only violated the assembly ban but also the Computer Crime Act by showing the event on the party's website.
The first of Pheu Thai's seven complaints was that the junta failed to restore democracy as promised after the putsch. Secondly, it didn't foster national reconciliation and instead ended up becoming a party to political conflicts. The third failure, Pheu Thai said, was the junta's inability to eradicate graft while the fourth accused it of violating basic rights and liberties.
The fifth point said the government had failed to protect human rights, extended detention powers to soldiers and tried civilians in military courts. The sixth said the junta failed to solve economic woes and incurred budget deficits. Lastly, it said Prime Minister General Prayuth Chan-ocha had failed as a leader by extending his stay in power and repeatedly delaying elections.
Deputy police chief, Gen. Srivara Rangsibrahmanakul, said police will process Burin's complaint when submitted and investigate the matter, adding that police will act in accordance to the law.