Come this Tuesday, junta chairman Prayuth Chan-ocha will have been in power for four years – longer than any other coup leader since the Cold War.
At 1,641 days in office, Prayuth will have served longer than the last elected prime minister, Yingluck Shinawatra (1,006 days) and her predecessor Abhisit Vejjajiva (961 days). The feat is also unique when considering that coup-installed prime ministers usually only hold the position a year or two before stepping aside.
So how did Prayuth's National Council for Peace and Order, or NCPO, manage to stay this long? The reasons are many, according to numerous politicians, activists and experts interviewed for this story. They range from the junta's use of brute force to Prayuth's personal influence.
But the common thread has to do with what the junta is not. The regime's success, according to most people interviewed, lies in convincing people it is a better alternative to the color-coded feuds and churning upheaval that have plagued the nation.
"For a decade, we didn't have stability. At the time the coup happened, there was unprecedented conflict and divisions. The people felt there was only instability," said Suriyasai Takkasila, a former Yellowshirt leader. "So people accept the NCPO's intervention, even though it cost them certain rights."
"Protests in the last 10 years exhausted people. Now that the coup happened, the unrest was over," artist and social critic Vasan Sitthiket said. "And people don't see the point of calling for elections, because they think things will just be the same after the election. People are sick and tired."
Representatives from two rival political clans, the Democrat and Pheu Thai parties, blamed each other for the debilitating ideological strife and disillusionment with democratic values.
"People have had bad experiences with politics in the past. Under the Yingluck administration, they had to live with an ugly form of politics," Democrat spokesman Ramet Rattanachaweng said. "Seizing power isn't the right thing to do. But once they did it, they sought to bring calm to the country."
"There was conflict between both sides, between Democrats and Pheu Thai. The problem came from both parties, but the bigger share of blame goes to the Democrats," Redshirt leader Thida Thavornseth said.
She continued, "People lost their trust in democratic principles because of the actions committed by political parties."
The moment the May 22, 2014, coup was announced.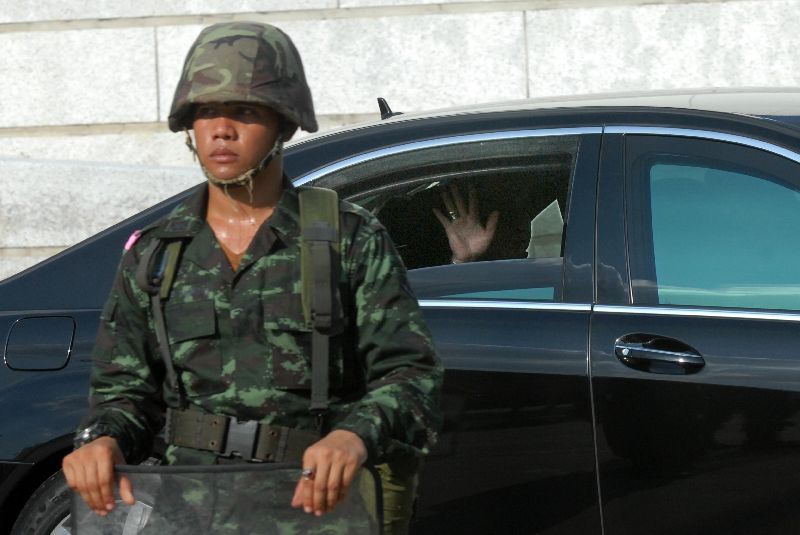 Coup Goes Off the Rails
Always coming around again in a timeworn cycle, coups d'etat are a spoke in the Thai political wheel. Khaosod has witnessed three since its founding 27 years ago.
But Prayuth's tenure easily stands out for a number of reasons.
Every "successful" military takeover of the last four decades has followed the same script: The generals who led the putsch quickly install a civilian prime minister, ostensibly to give the appearance of democratic rule, before retreating into the shadows. Typically, general elections have been organized within a year.
Prayuth went off-script.
"He tore to pieces the rules of the coup," Wassana Nanuam, a reporter and author who covers the army extensively, said in an interview.
Instead of handing his baton to an appointee, Prayuth took the post as prime minister himself.
The move came with a risk, Wassana noted.
When Gen. Suchinda Kraprayoon rose to the premiership in 1992, a year after he staged a coup, large protests broke out within weeks, with tens of thousands of people taking to the streets. Suchinda was eventually forced to step down, but only after scores of people died in a military crackdown that later became known as Black May.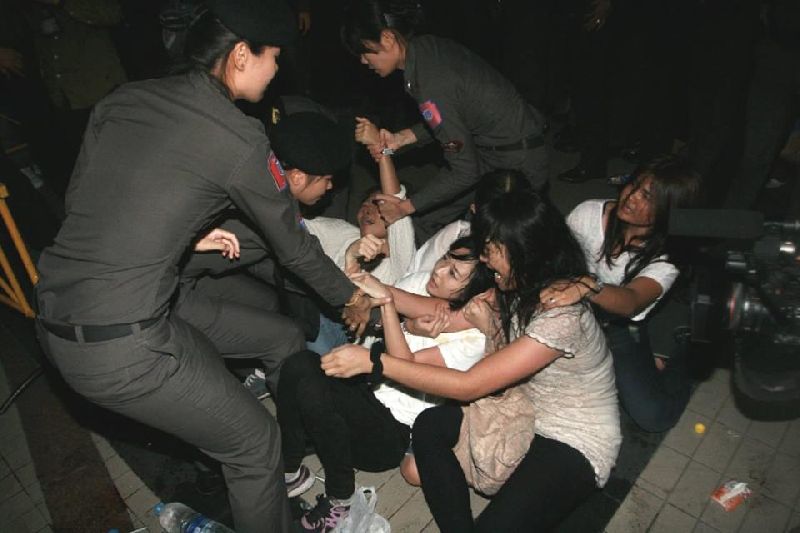 Coupcraft
Such resistance didn't greet Prayuth when he took the top job. While there were occasional demonstrations and sit-ins staged by pro-democracy activists, they lacked the strength and momentum that brought down Suchinda 26 years ago.
Obviously, fear helps. Many who challenged the junta have been swiftly arrested and prosecuted for violating its ban on political activities, which carries a maximum penalty of two years in prison.
"In the past four years, the NCPO used laws and other edicts as a tool to suppress dissent and spread fear," said pro-democracy activist Chonticha Jaengrew. "There were also other forms of intimidation. They 'visited' people at homes and took them in for 'attitude adjustment.' They like to sugarcoat their rights violations with softer words."
But she also accepted that another tool wielded by the junta is apathy.
"Colored-shirt conflicts and social media propaganda make people afraid of protests. They make protests look like unrest," Chonticha said. "People expressing their beliefs on the streets is simply the exercise of political rights, but for the last 10 years, these issues were made to look repulsive."
Ramet, the Democrat spokesman, said the junta is rightly praised for ending years of restive politics, which at times turned violent.
"Every government should enforce the laws effectively," the spokesman said. "One thing that made this government popular is their enforcement of the laws, and the country is more peaceful than in the past."
Another factor behind Prayuth's relatively secure position is loss of faith in the ballot box and parliamentary democracy, said former Yellowshirt campaigner Suriyasai.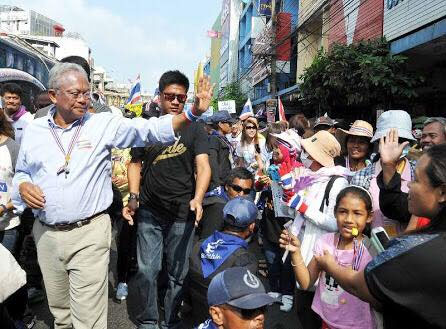 "Many people are sick of politics in politicians' hands, especially those who see electioneering as their career," Suriyasai said. "They play politics without regard for what is right, without regard for morals. It was all about seeking power and corruption. It made people sick and distrustful of politicians."
He added, "And when people didn't know who to turn to, they put their hope in the military."
Vasan said both Prayuth and de facto Pheu Thai leader Thaksin Shinawatra are to blame for the current state of affairs.
"People don't switch sides against the junta because they think the army is still better than Thaksin. They think both people are corrupt all the same anyway," said Vasan, who in his long career has championed the dispossessed, supported military intervention as a Yellowshirt and most recently written a poem calling on the present junta to step down.
Colors Clash – But For Green
Four years after the coup, unified opposition has yet to emerge. Pheu Thai, whose leadership remains unsettled, has so far ruled out forming an alliance with their Democrat arch-rivals, who are equally suspicious of cooperation.
Protests over the years have, for the most part, been organized by the same group of activists and campaigners, many of whom already face numerous charges and court trials. A newly founded progressive party led to a flash of excitement among liberal-minded urbanites, but its leaders remain untested.
On the other hand, Gen. Prayuth has all the backing of the united armed forces, an institution previously known for factional infighting, said Wassana, who styles herself as a "military reporter" due to her intimate familiarity with army top brass.
"Prayuth is fortunate to have risen to power when there was no crisis in the army. He's risen atop a power base entirely stacked with those loyal to him," she said. "Because of his position as a big brother, the armed forces have no conflict, unlike in the past."
She named Prawit Wongsuwan and Anupong Paochinda as the two most influential generals in the army – both of whom are staunchly supportive of Prayuth. The junta chairman also put key military leaders in prominent positions and balanced the army's two warring factions in his dispensation of rewards, Wassana said.
"If the army weren't this united, Prayuth's seat wouldn't be this secure," the author concluded. "You have to give Prayuth credit for learning lessons from the past."
'We Only Do What Should Be Done'
The regime has its own take on why it has succeeded in holding onto power this long: They have simply won the hearts and minds of the public.
"As for the NCPO, we only do what should be done and what will benefit the public. We focus on doing things and being sincere," junta spokesman Winthai Suvaree said in an interview. "So the public has confidence in us."
He added that the the duration of the regime's stay is dictated by its "roadmap" for a return to a democratic rule. Gen. Prayuth has promised an election by February 2018, though he's discarded similar previous pledges repeatedly.
The No. 2 junta boss, Gen. Prawit, told reporters on Friday that his regime wouldn't have made it this far if they weren't doing good things for the people.
"The NCPO has been working all this time. If those four years weren't good enough, we wouldn't still be here," he said.