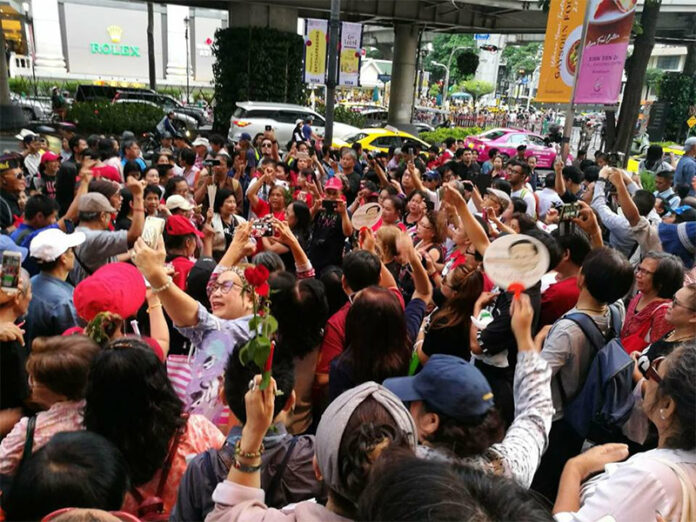 BANGKOK — Some 200 Redshirts gathered at Ratchaprasong Intersection on Saturday to mark the end of a military crackdown in which nearly 100 people died eight years ago.
Police cordoned off a portion of the busy commercial shopping quarter which has become a totem for Redshirts who led massive protests calling for fresh elections beginning in April 2010 but ended up being dispersed and, for dozens, killed.
Among the approximately 100 deaths sustained up through the final May 19 clearance operation were two foreign journalists, a rogue general and army colonel working for the Abhisit Vejjajiva government at the time.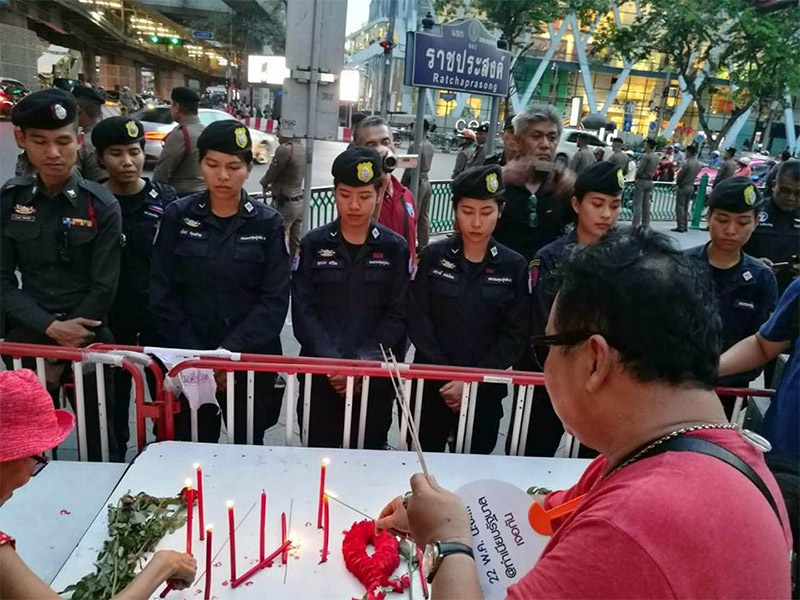 On Saturday, crowds were allowed through a barricade near the marker sign some 20 people at a time to pray, light incense and candles. Police relied on Redshirt leaders to communicate and control the crowd, which by 6:20pm, were shouting "People have died right here!" as they gathered in front of the Gaysorn Plaza shopping mall next to the intersection.
Some were angry that they were not allowed to freely commemorate the deaths of fellow protesters while Redshirt leader Sombat Boonngam-anong admits that society has embraced different memories of what happened. In the aftermath of the crackdown, a fire broke out at Central World Plaza and and some hold the entire movement responsible for that and other acts of arson upcountry.
Read: McDonald's Shuts its Doors to Coup Protesters
A nearby McDonald's at Amarin Plaza, another symbolic spot where Redshirts congregated during the 2010 protests, decided to close 3pm to 8pm Saturday to keep protesters from entering.
A statement issued by local business operators noted the temporary closing down of McDonald's and went further to state they did not support protests that affect the public as they had in the past.
"I hope one day we can commemorate without having to pose questions as to what really took place during the event," Sombat said.
Eight years on, no one has since been held responsible for any of those killed.
Sunai Phusak of Human Rights Watch wrote Saturday that uneven justice has met the excesses committed by both sides.
"But instead of prosecuting all those responsible for crimes, successive governments have made paltry efforts to hold policymakers, commanding officers, and soldiers accountable," Sunai said in a statement. "On the other hand, protest leaders and their supporters have faced serious criminal charges."
Related stories: