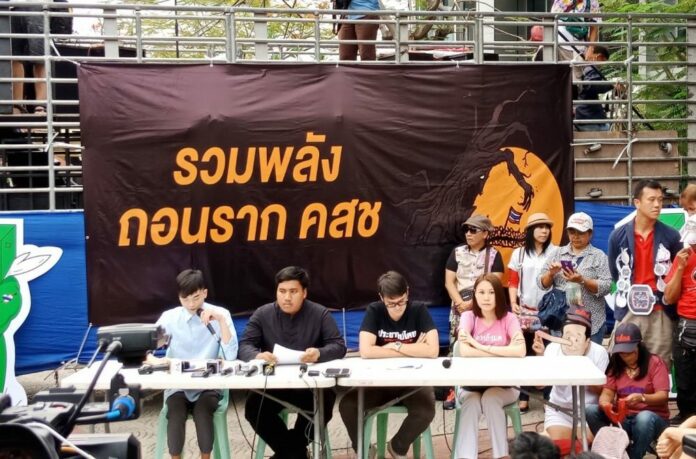 BANGKOK — A pro-election protest leader accused the military government Monday of discrediting them by claiming a planned protest to mark the fourth anniversary of the coup would induce violence.
Rangsiman Rome, key member of political movement Democracy Restoration Group, said speculation that hardcore Redshirts would infiltrate and use violence during a Tuesday rally to protest four years of military rule was an attempt to discredit those who want elections held in November.
"I think this is all about discrediting," Rangsiman said on the phone Monday morning, hours before protesters were due to gather at Thammasat University in preparation for a morning march to the Government House. The rally is set for 7am on Tuesday.
Deputy Police Chief Gen. Srivara Ransibrahmanakul on Sunday claimed hardcore Redshirts wanted to exploit the protest by using heavy weapons to create disturbances. Srivara did not elaborate on the targets or the types of weapons he thought would be used.
Rangsiman, also the leader of the People Who Want Election Group, said that if the military government is truly concerned about violence, it should pay more attention to the situations in the Deep South – where a spate of bomb attacks were carried out Sunday night.
Police warned they would prosecute protesters and charge them with violating the junta's ban on political gathering of more than four people and the Public Assembly Act if they step out of Thammasat University tomorrow. A 50-meter perimeter around the Government House will also be declared off limits, the deputy police chief said..
Rangsiman insisted protesters plan to march nonetheless. He said they would hire volunteer security guards to ensure safety, adding that marchers would be warned about the risk of breaking the law.
"We will be fair with everyone and let them know about the risk," Rangsiman said.
Related stories: