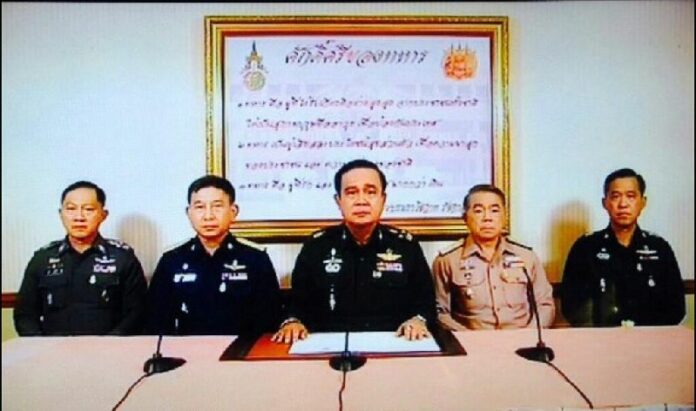 BANGKOK — Four years after seizing power, Thailand's junta has a singular success it never hoped for: uniting a politically divided nation in growing dissatisfaction with the thin-skinned rule of the generals.
After rifle-toting soldiers overthrew Thailand's elected government in a bloodless coup in May 2014, the new military leaders, like a succession of Thai coup makers before them, pledged reform and reconciliation and promised they wouldn't stay long.
But after repeatedly delaying elections, frustration with the junta and its leader, former army chief Prime Minister Prayuth Chan-ocha, is visibly growing. And far from stepping back, they appear to be planning to maintain a vice-like grip on the country by turning political parties into their proxies if elections are held. The latest vague date for an election is February next year.
Read: Prayuth's Staying Power Owes to Fear of Resumed Discord
From humble street-food sellers ordered off Bangkok's pavements to wealthier echelons of society, the junta's promise to "return happiness" to Thailand now rings hollow.
"They came in to pledge for reform, reconciliation and corruption eradication, but in fact, on all three fronts, they've failed," said Thitinan Pongsudhirak, a political scientist at Chulalongkorn University. "If you look around Thailand now, no one, no segment, no faction, no key movement is really behind the coup and the military government anymore."
One of world's top tourist destinations and a long-standing U.S. ally, Thailand has suffered more than a decade of upheaval, including two coups, as its conservative establishment struggled to smother a grassroots political revolution fostered by the electoral success of billionaire businessman Thaksin Shinawatra.
His leadership was marred by corruption and human rights abuses and he now lives abroad in exile, but the political earthquake he unleashed with policies aimed at improving the lot of the country's poor rural majority, and diminishing Bangkok as the country's overweening center of political gravity, continues to reverberate.
Thaksin was ousted in a 2006 coup but his proxies swept to power in successive elections including a party led by his younger sister, Yingluck Shinawatra. The 2014 coup that ousted her government followed months of street protests in Bangkok against politicians Thaksin-deploring urbanites saw as inept and corrupt. It was Thailand's 12th military takeover since its absolute monarchy was abolished by a 1932 coup.
Many Thais are grateful that Prayuth guided the country through the national trauma of the death of long-reigning King Bhumibhol in 2016 and the year of mourning that followed. They believe the discipline of a military ruler ensured stability at a crucial time.
Nor do they want to reprise the violent street politics of the last decade that at times turned Bangkok into a war zone.
Equally, though, there's an increasing clamor of voices asserting it's time for the junta to go.
Corruption scandals have eaten away at its claim to legitimacy and frequent arrests of government critics have caused anger, emboldening further open challenges to the regime.
"If you believe in the basic principle of democracy and human rights you will never be able to agree with having a junta to rule the country, so it's as simple as that," says Nuttaa Mahattana, a protest leader.
Prayuth denies he ever wanted to be prime minister and scoffs at claims he's maneuvering to stay in power after elections.
He revels in the limelight and the quick-tempered soldier is also swift to counter-attack, often throwing out personal insults or threats to silence opponents.
"You cannot say that we haven't done anything, otherwise, why have we been here for the past four years?" he said at recent news briefing.
A Thaksin-backed political party that earlier this month criticized the junta's performance was rapidly put under police investigation.
Titipol Phakdeewanich, dean of the political science faculty at Ubon Ratchathani University, said Prayuth is already campaigning. He is courting regional power brokers and traveling frequently to the provinces for triumphal speeches to locals while political parties are barred from doing the same.
"It is evident that Prayuth is paving the way to remain in power if we have elections next year," he said.
On top of that, a new, military-authored constitution is designed to neuter potential political opponents.
"It was already obvious during the writing of the constitution, which contains many elements supporting the capacity of the Thai junta to remain in power after the elections," Titipol said.
On Tuesday, protesters plan to march on Government House to mark the fourth anniversary of the coup, and to demand an election this year. It'll be among the most direct challenge yet to the junta and possibly the beginning of turmoil to come.
"Thai politics will have to get worse, a lot worse, before Thailand can navigate and regain its footing into the 21st century," said Thitinan.
Story: Jerry Harmer