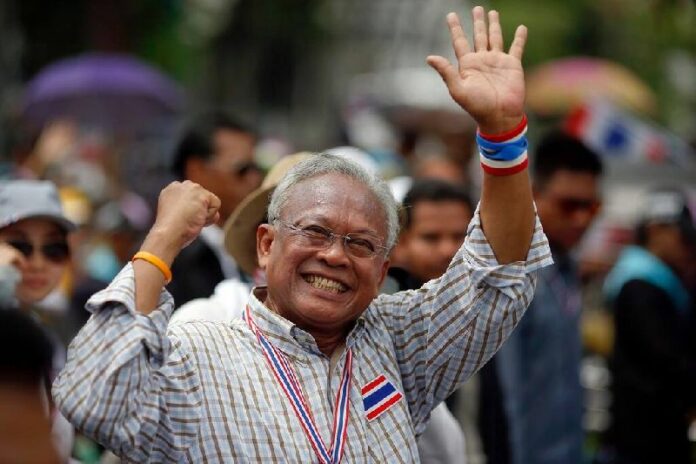 BANGKOK — When a party recently formed by close aides including the brother of former firebrand politician Suthep Thaugsuban convenes for the first time Sunday, it will be graced by a very special guest: Suthep himself.
Party co-founder Anek Laothamatas confirmed Suthep's attendance Thursday, even as he tried to dismiss the notion that the group, called Palang Prachachat Thai (Power of Thai People's Nation), is a vehicle for the former Surat Thani representative and his staunchly pro-establishment faction.
"It's not like that," Anek said with a laugh. "Why would I want to give my party to him?"
In the same interview, Anek, a former political science professor, said Suthep was granted party membership, and that they are following his advice closely.
"He's helping us as a member," said the politician, who was appointed to a reconciliation committee by the junta following the May 2014 coup.
Palang Prachachat Thai registered its name with election officials on May 25, listing a younger brother of Suthep, Thani Thaugsuban, as one of its co-founders. Suthep's former attorney was also named a party founding member.
The party is set to hold its first executive meeting at Rangsit University. Anek expected "as many as 1,000 people" to attend. Key policies and party leadership will be approved in a vote that day.
Since his return to public life in 2015, following nearly a year in the monkhood, analysts have speculated on what role Suthep will take over the hard-line, pro-establishment faction he carved out of the Democrat Party's support base during the "Bangkok Shutdown" street protests prior to the coup four years ago.
Although reports of Suthep forming a party to the run in the next election come up now and then, the 68-year-old tried to quash the rumors in February with a definitive but carefully worded statement.
"I will not run in election for a Member of Parliament seat. I do want any political office. I will not join any government with anyone. I will not be a prime minister, not a deputy prime minister, not a minister," Suthep told reporters at the time. "I will not even be an executive of any party."
Citing that remark, Anek said Suthep will not any seat in the party executive board. But he declined to rule out other functions.
Related stories: