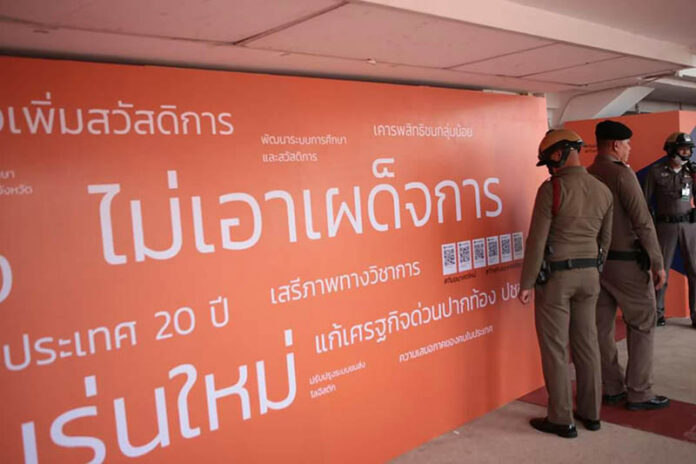 BANGKOK — The Future Forward Party called on the military government Monday to end alleged threats against its members, particularly in the north and northeastern regions.
In a statement, the party said some members were visited by state officers who had taken photos of vehicles parked at its first meeting last week held at Thammasat University's Rangsit campus. It said they were subsequently "threatened, harassed and made to feel fear."
"Future Forward Party calls on officers to cease abusive acts that violate the rights and freedom of citizens and that they treat all political parties equally," the statement read.
Read: Calling For New Charter is Totally Fine: Election Official
Chiang Mai-based deputy party leader Chamnan Chanruang said by phone Tuesday that dozens of members had been visited and threatened by plainclothes police.
Chamnan said the party had not yet sought any explanation from the authorities. He said they had approved their May general meeting in Bangkok. He said the party didn't think it necessary to reach out as its members' rights should be respected.
"We won't, because we consider what we are doing to be right. We have been given permission by the [junta.] Police who showed up told members they did not agree with what they were doing but were carrying out their duties," Chamnan said.
Asked why Future Forward Party – led by auto-part business empire scion Thanathorn Juangroongruangkit – was the only to experience such alleged harassment, Chamnan said it's because it is quickly gaining popularity.
Until March, Thanathorn was on the board of Matichon Group, the parent company of Khaosod English.
The party has also drawn rebukes from the leader of the ruling junta for its open call to shred the junta-sponsored constitution of 2017 and replace it with one more democratic.
An aide to police spokesman Gen. Veerachai Songmetta said Tuesday that the move was a matter of national security without elaborating further. He asked the matter be referred to deputy police chief Pol. Gen. Srivara Ransibrahmanakul, who was unreachable as of publication time.