Top: A charred toy sits at the base of Mairood's largest landfill. Photo: Siriporn Sriaram / MFF/IUCN
By Aban Marker Kabraji, International Union for Conservation of Nature (IUCN)
Known for its beautiful beaches and coral reefs, Trat Province, on the eastern coast of Thailand, is struggling with a very real problem. Like other coastal areas in the country, the province is being polluted by the daily dumping of waste into the ocean.
While there is no shortage of environmental management efforts in Trat, dealing with waste, particularly plastic pollution, remains a big struggle. For long-time village chief, Natsini Intaraprasert of the Mairood sub-district, home to one of the province's giant landfills – waste is the "most challenging problem to manage."
Trat's waste and plastic woes are not unique, with plastic pollution topping the list of problems affecting the world's oceans.
Every year, the world produces over 300 million tons of plastic, half of which comprise single-use items such as shopping bags, cups and straws. Plastic waste can be found in virtually all coastal areas and even in the deepest parts of the ocean. With over 80 percent coming from land-based sources, marine plastics threaten ocean health, food safety, human wellbeing and coastal tourism, and contribute to climate change.
Left unchecked, the problem will escalate drastically: Over eight million tons of waste flow into our oceans every year (1 truckload per minute). In a business as usual scenario, this amount of pollution is expected to double by 2030.
In Asia, where the lack of effective solid waste management systems is compounded by the presence of dense coastal populations, the problem is reaching a tipping point.
A 2015 study identified China, Indonesia, the Philippines, Sri Lanka, Viet Nam and Thailand as the top six sources of marine plastic, responsible for around 60% of plastic pollution at sea. Another study revealed that more than a quarter of all the world's marine plastic waste may be pouring in from just 10 rivers, eight of them in Asia.
Collaborative Knowledge
Through the Marine Plastics and Coastal Communities initiative, supported by the Swedish International Development Agency, IUCN is working closely with governments and regional bodies in Thailand, Viet Nam, Kenya, Mozambique and South Africa to assess the status and impact of plastic pollution. The work also includes facilitating national action plans and supporting legislative reform to reduce marine plastic pollution.
It is also imperative to work with businesses to help them better understand their plastics footprint. This requires metrics and indicators which to date do not exist. To address this gap, IUCN is working with life cycle experts to develop a plastics footprint calculator to help businesses close the plastic loop by consolidating data, quantifying scales of plastic flows and developing solutions to guide decision-making.
Bringing public and private sectors together through multi-stakeholder platforms, and capitalising on existing ones – rather than duplicating – will also magnify efforts from both sides. In Viet Nam, the Ha Long – Cat Ba Alliance of government agencies and local businesses has organised three large-scale coastal clean-ups with over 300 volunteers, who collected nearly four tons of trash along four kilometers of coastline.
As more than 60 percent of the trash was expanded polystyrene, the Alliance worked with the Ha Long City People's Committee to ban the use of this material in Ha Long Bay and worked with the Hai Phong City People's Committee on alternatives.
In Thailand, IUCN is launching a platform to assist governments and businesses in tackling environmental issues – including the marine plastics pollution problem – through engagement and responsible practices.
Closing the Pollution Tap
In Trat, residents of Mairood are showing how local action is not only possible and replicable, but also, empowering and lasting.
Through a project initiated by Mangroves for the Future, a joint IUCN and UNDP programme that provides grants across 11 countries, the community has started sorting, composting and recycling waste, and is looking to reduce collected waste by 80 percent. The project also connected them to a large recycling company that buys their sorted waste, helping to generate income.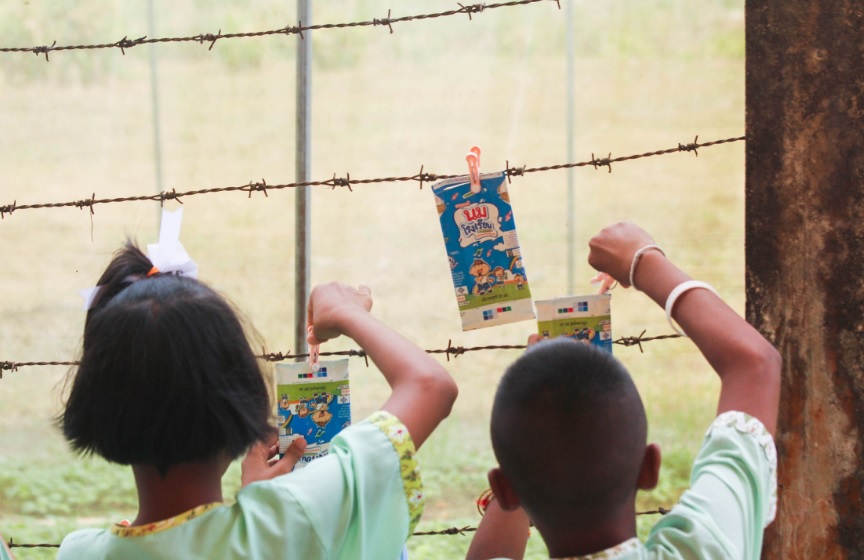 The community-based waste management projects in Trat do not require high-end technology, but they have proven to be effective in preventing a large amount of plastic from reaching the sea. Community-based solutions such as these are a vital step towards solving this global problem.
But small communities cannot do it alone.
Paradigm Shift
Looking at the bigger picture, marine plastic pollution is an acute symptom of the need for an urgent paradigm shift: from today's linear "take-make-dispose" model, to a more circular plastic economy.
Governments should consider introducing comprehensive policy frameworks for more efficient waste collection and treatment, as well as incentives for recycling. Companies should be incentivised to implement solutions to reduce or even eliminate plastic waste and leakage in their supply chains.
Last but not least – and at the core of the problem – is consumer behaviour, which needs to change when it comes to single-use plastics.
This year's theme for World Environment Day is "Beat Plastic Pollution." The scale of the plastic challenge is immense. But, informed by sound research and the latest science, and driven by strong policy, combined efforts from different sectors to realise meaningful action will prove to be up to the crucial task at hand.
Aban Marker Kabraji is the regional director of IUCN Asia.