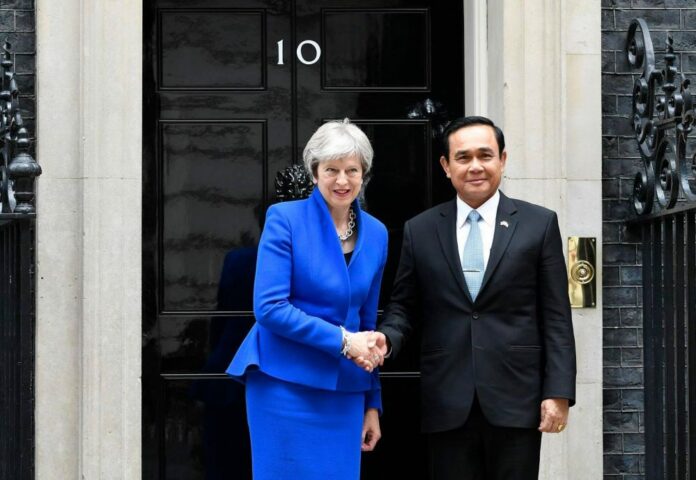 BANGKOK — Activists said junta leader Gen. Prayuth Chan-ocha's visits to the United Kingdom and France are a sober reminder that those nations prioritize their national interests above democracy and human rights.
The prime minister started his week-long visit to the European Union on Wednesday that will see him meet both British Prime Minister Theresa May and French President Emmanuel Macron. He is expected to oversee the signing of trade deals with private companies from all three nations.
"We all know Western governments will uphold democratic and human rights principles as long as they don't hurt their national interests. If the loss is too much, they use discursive power to justify their abandonment of principles," said Puangthong Pawakapan, an international relations lecturer at Chulalongkorn University.
Puangthong, a pro-democracy activist, described Prayuth's official visit the capitals of two of the world's leading democracies as "disgusting realpolitik."
Read: Protests at UK, France Embassies Over Prayuth EU Visit
Prominent Chiang Mai-based international affairs commentator Pipob Udomittipong said Wednesday that he was "deeply disappointed with the two countries" for inviting Prayuth.
"The European nations have long wanted to conclude trade deals with Thailand, regardless of the ruling government. The UK, for sure, want to compensate for the anticipated loss of Brexit. The leaders of England and France should look for long-term benefits from dealing with a democratically elected government in Thailand," Pipob said.
He added that the countries should not give up hope for democracy in Thailand.
LGBT and political activist Paisarn Likhitpreechakul also saw it as political cynicism.
"The two governments did what they had to do to protect their national interests and priorities, including rebalancing their positions in Asia against China's increased assertiveness and ensuring their corporate influencers continue to have a slice of Thailand's business pie. It's understandable but hypocritical, given their past human rights rhetoric," Paisarn said.
"If they prioritize business over human rights, what differentiates them from China? Maybe the answer is China doesn't pretend to be your friend?" he added.
But anti-junta movement leader Nuttaa Mahattana defended the two countries.
"At first the news was disappointing. Then just this morning, a European diplomat told me that it is actually another approach to pressure the junta to answer human rights-related questions face-to-face, as these issues, as well as the elections, will be on the agenda. Also, the official statement will reflect that," she said.
Nuttaa said international pressure was ineffective under absolute dictatorship.
In Paris, Thais are expected to hold a protest Monday outside Macron's residence at the Elysee Palace. A representative said they expect a small group of about 20 demonstrators.
In England, exiled Oxford-based political scientist Giles Ji Ungpakorn shared a Sunday Facebook post decrying the British prime minister's move.
"Shame on Theresa May for inviting Thai junta head to UK to meet her on 20th June!" he wrote.
Puangthong said part of the reason is that the Thai democracy movement is weak.
"The pro-democracy movement is certainly weak for two reasons. First, the color-coded politics have polarized people. The last two military coups took place because the royalist civil society movement invited and paved the way for them. Many still support the junta despite its appalling performance," she said.
"Second, the junta has widely oppressed pro-democracy activists in Bangkok and the provinces. Thousands were arrested, charged, threatened," Puangthong added.
Pipob defended the anti-coup movement but added that many Thais "fancied and still fancy a coup as a solution."
As for Nuttaa, she pinned her hope not on Western powers but on Thais.
"Real change will depend on the power of Thai people. If the fear is still there, the junta will be here to stay," Nuttaa said.