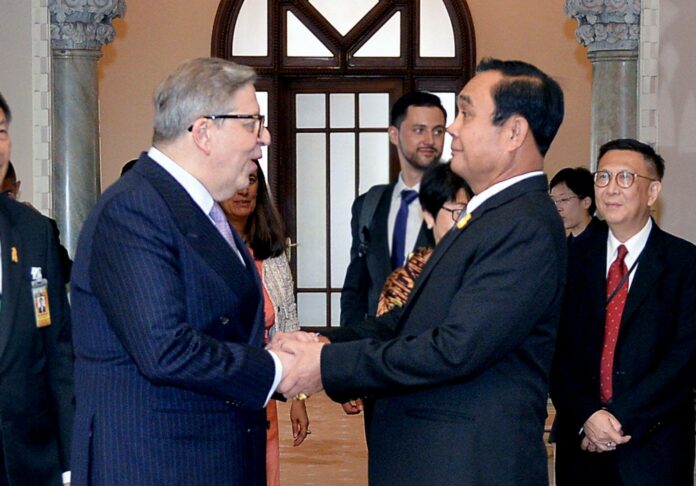 BANGKOK — Pro-democracy activists said Tuesday they will deliver letters of protest to the British and French embassies over their decision to welcome the junta leader to their countries this week.
As Gen. Prayuth Chan-ocha is set to embark on his first official visit to the European Union tomorrow, veteran activist Prajin Tanangkorn said his network will gather in front of the embassies this afternoon to submit letters demanding both nations pressure the military government to stop its "bad behavior."
"The main point is to ask the two advanced, democratic countries to denounce the Thai military government for its bad behavior," he said. "Next is to help put pressure on him and make him release people accused of crimes by the junta, because I think those people did nothing wrong by international standards. Demanding an election date to be set as soon as possible is not an offense, but the dictators are offending us by wanting them to stop."
Prajin was referring to recent rallies calling for elections to be held this year that saw protesters charged with a variety of criminal offenses including sedition and violating public assembly laws. A ban on political gatherings of more than four people has remained in place since the 2014 coup d'etat.
He added that both embassies said they will send representatives to receive the letters. They will go to the UK embassy at 1pm and French at 2pm.
Prajin's group, Dhammadhipateyya (The Supremacy of Righteousness), is well-known for stunts such as climbing the Democracy Monument about 10 years ago to protest the military's role in formulating a previous constitution.
On Monday, the Government House revealed a detailed schedule for Prayuth's EU tour focused on promoting economic investment.
Officials have previously expressed concern his visit might prompt protests by Thais living abroad. Previous overseas travel has seen Prayuth dogged by protesters in Italy and New York.
During his five-day visit, Prayuth will be received by UK Prime Minister Theresa May and French President Emmanuel Macron.
Among other agenda items, Prayuth and Macron will oversee the signing of a joint venture agreement between Thai Airways and Airbus to build an aircraft repair hub at the U-Tapao International Airport, including the purchase of a 6.9 billion baht observation satellite, THEOS II, also from Airbus.
His visit has drawn criticism from rights groups who fault the European Union for pursuing good relations with the military government despite concerns over human rights violations.
EU Ambassador to Thailand Pirkka Tapiola has insisted that the union would only resume free-trade negotiations with a duly elected government.
He also said last month at the Foreign Correspondents' Club of Thailand that the union was not "softening its position" on the deteriorating state of democracy and human rights in Thailand by hosting Prayuth.
Related stories: