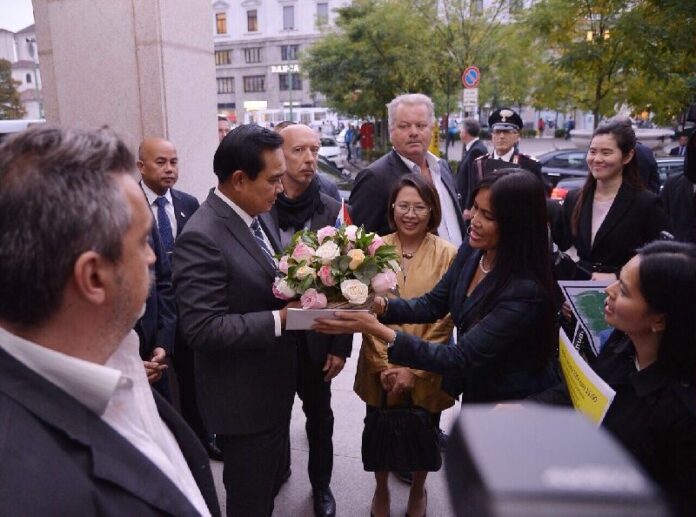 BANGKOK — The Thai government has insisted that there were no protests against junta leader and Prime Minister Gen. Prayuth during his visit to Italy, despite numerous international media reports and photographs that suggest otherwise.
According to a spokesperson from the Office of Prime Minister, the images of a demonstration against Gen. Prayuth on the streets of Milan are "fake."
"There have been claims on social media and a number of websites, especially on a website called Thai E News, about images that attempt to depict a protest against Gen. Prayuth and his delegates," said Maj.Gen. Sansern Kaewkamnerd. "Let me stress that these claims are false."
The Thai E News website has since been blocked in Thailand.
Gen. Prayuth is currently attending the Asia-Europe Meeting (ASEM) summit in Milan – his first trip outside Southeast Asia since staging a coup against the elected government on 22 May. In August, a military-dominated parliament whose members were handpicked by the junta voted Gen. Prayuth into the premiership.
His arrival in Milan prompted a group of Thai anti-coup activists to join a local demonstration against an Italian far-right party to voice their displeasure with the junta leader. Activists in the anti-Prayuth protest, which was reported by a number of foreign media agencies including theAFP, held signs calling Gen. Prayuth a "criminal" and "dictator."
Shortly after seizing power in May, Gen. Prayuth banned all political gatherings and protests in Thailand. His administration has also blocked hundreds of websites and several academic panels perceived as critical of the coup.
One sign carried in the Milan protest also called for justice in the case of Fabio Polenghi, an Italian photojournalist who was shot dead while he was covering the military crackdown on Redshirt protests in Bangkok four years ago. A court inquest indicated that Polenghi was most likely killed by security forces.
However, Maj.Gen. Sansern, the Thai government's spokesperson, said officials accompanying Gen. Prayuth in Milan insisted that there were no protests against the junta leader during his visit. On the contrary, local Thais welcomed Gen. Prayuth, officials reported.
The Office of Prime Minister has released several photos of around a dozen Thais presenting Gen. Prayuth with a bouquet of flowers in front of his hotel in Milan.
"I do not know the intention behind those who spread these rumours," Maj.Gen. Sansern said. "But I am aware that there has been attempt to portray an opposition against the Prime Minister."
Maj.Gen. Sansern added that the Ministry of Information and Communication Technology (ICT) will "investigate" the websites that published photos of the protest.
This is not the first time Thailand's military has attemtped to "save face" with claims that appear incongruous with reality. For instance, in May the armyexplained that a non-military provocateur "hijacked" an army loudspeaker during an anti-coup protest in Bangkok to deliver a fiery rant against foreign correspondents covering the demonstration. The junta has also attempted to deny that the 22 May takeover was in fact a coup d'etat.