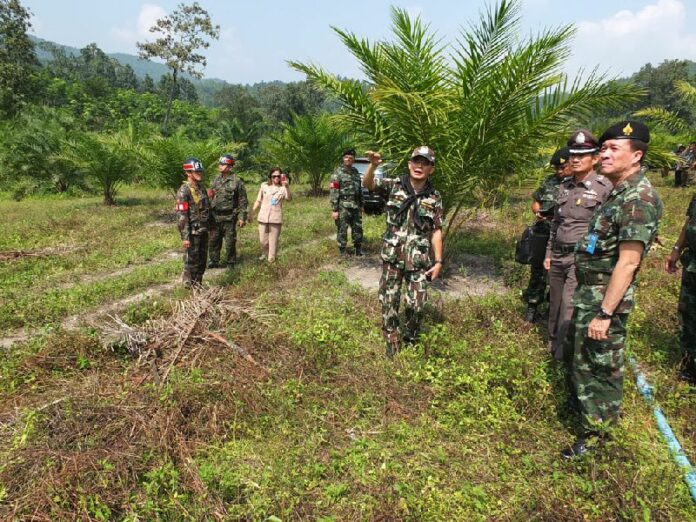 SURAT THANI — A group of soldiers on Koh Samui island have been accused of torturing a man into confessing to trafficking marijuana and then seizing his belongings for their personal use.
Somkid Siriboon, from Bueng Kan province in northeastern Thailand, was arrested on the southern island in early September by army officers from the 25th Infantry Regiment for allegedly transporting 42 kilograms of marijuana.
According to a report released by the military at the time, Somkid intended to sell the marijuana to foreign tourists on the neighbouring Koh Pha Ngan island, the site of the monthly Full Moon Party.
But his family said today that army officers falsely implicated Somkid and physically abused him until he confessed.
According to Somkid's wife, Suphee Siriboon, the officers who arrested her husband also confiscated his pick-up truck, gold necklace, amulet, cash, and ATM cards. Instead of storing the confiscated items in a state agency, the soldiers retained them for personal use, Suphee said.
"When we begged them to return the belongings to us, they refused," Suphee told reporters after submitting a petition to the headquarters of Surat Thani Military District calling for justice.
Maj.Gen. Kriangkrai Srilak, commander of the 25th Infantry Regiment, accepted the petition and promised Suphee that he will convene a formal investigation into the allegations. The soldiers who arrested Somkid have been summoned to give testimony within 24 hours, Maj.Gen. Kriangkrai said.
"Based on the evidence provided by the family, such as photographs and videos, I believe there's truth in their complaint," Maj.Gen. Kriangkrai said. "We will not tolerate the soldiers to perform their duty in an unlawful way."
Somkid is currently detained at Koh Samui prison, where two Burmese migrants accused of murdering two British backpackers on the nearby Koh Tao island are also awaiting trial.
Since the military imposed martial law and seized power on 22 May, soldiers have been deployed across the country to assume a wide range of law enforcement duties, such as arresting suspected drug dealers, illegal loggers, and extortionate taxi drivers.
The military's campaign on petty crimes is considered part of a wider effort by the junta's National Council for Peace and Order (NCPO) to raise popular support for the regime.
However, there have been a several allegations of soldiers torturing suspects in military custody. A recent report by Prachatai news alleged that a 45-year-old man was electrocuted and beaten in July by army officers who wanted him to confess to possessing military-grade weapons.