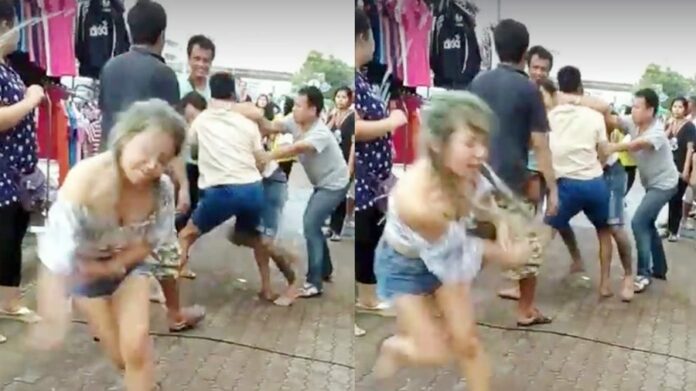 NAKHON PATHOM — A beauty salon owner is accusing a customer of defamation for a storefront rant that blew up into a full fledged brawl over a 140,000 baht bill.
The criminal complaint came after Nampeung Chanmeechai went to Natita Muksire's salon last month in western metro Bangkok for hair extensions and various treatments. The bill came to 140,000 baht. This past Friday, Nampeung – still 100,000 baht in the hole – showed up with a beer buzz to scream in front of the salon while the two women's significant others let their fists fly.
A now-viral video caught the exchange in which she paraded up and down, loudly eliciting public sympathy for her expensive hair bill. Natita responded by complaining to the police today.
"I'm really in hot water here," the 36-year-old salon owner Natita said at the Phoekaew Police Station Tuesday. "I want her to come out and face what she did. She ruined our shop."
Nampeung was scheduled to meet Natita Tuesday but did not appear at the police station. The customer had earlier filed her own complaint accusing the shop of extortion, with both sides going to the media to tell their stories over the weekend.
The story became a thing online Friday after the video clip showed Nampeung's boyfriend brawl with Natita's husband, 38-year-old Thanisorn Prakorbsiang. Nampeung could be seen throwing drinks and screaming at passers-by to record clips and post them to social media.
Nampeung claims that the shop never told her what the full price would be during the treatment.
"I told them to give me the price in numbers, but they kept walking around and not telling me," Nampeung said Monday. "If they told me it was 140,000 baht, I wouldn't do it no matter how rich I am," she said.
Nampeung has since taken to mainstream and social media to show off discolored, frizzy hair. In photos she posted earlier this month to her Facebook, she smiles and shows off long seaweed-colored hair.
"This hair cost 140,000," Nampeung says in one clip. "Look at how bad it is."
She said she was overcharged but did pay the shop 40,000 baht. She also said that the expensive extensions were so uncomfortable she had to remove them all.
The hairdresser, however, claims that price was justified.
The shop owner retorted Monday that Nampeung had short hair and wanted to get top-grade hair extensions along with various hair and nail treatments. Natita said it took her shop employees three weeks to make each of the 24 layers of hair, which were made from real hair knitted together.
Natita Muksire tell the press Monday the reason behind their 140,000 baht bill.
The 140,000 baht bill broke down to: 24 layers of hair extensions costing 4,000 baht each or 96,000 baht, bleaching her hair five times at 15,000 baht, dying both her real hair and extensions for 8,500 baht, using Joico brand treatment six times for 12,000 baht, getting gel nails with real Swarovski crystals for 4,500 baht, clothes for 3,160 baht and a voluntary tip from the customer of 4,000. The 143,160 baht total was discounted to 140,000 baht.
When it was time to pay, Natita said that Nampeung claimed she had to exchange foreign currency first and walked out of the store. She later transferred 40,000 baht and promised to send the rest.
Nampeung then filed a complaint with police, claiming that the prices were exorbitant and came back to the shop a month later, when the brawl ensued.
Defamation is a criminal offense punishable by up to a year in jail and 20,000 baht fine.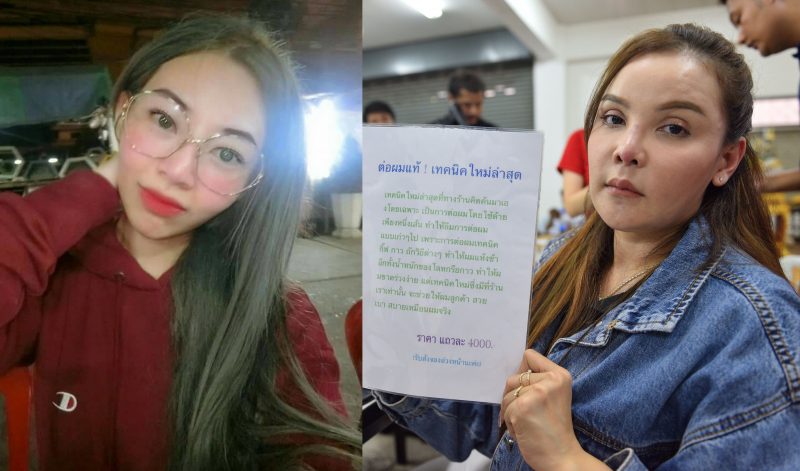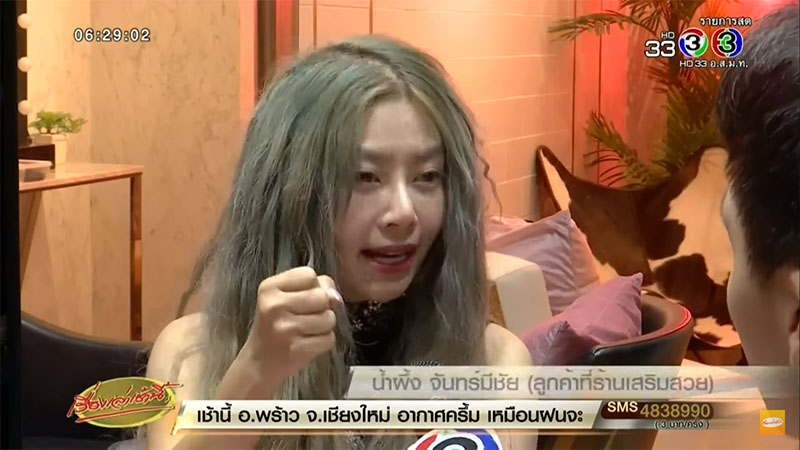 Natita Muksire explains the pricing behind the 140,000 baht bill in a live video posted Friday.