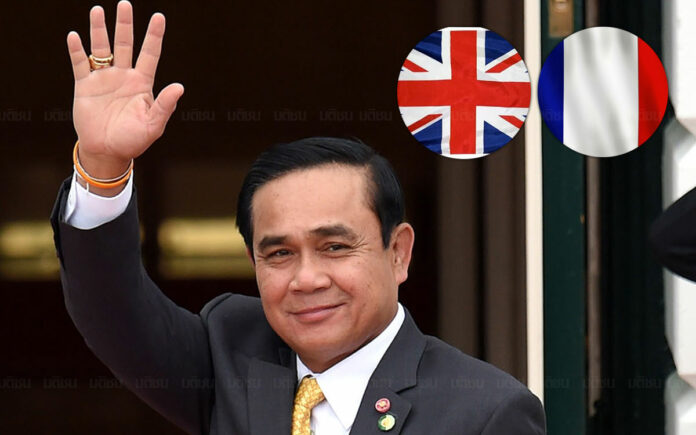 BANGKOK — The head of the ruling junta said Tuesday he will visit Europe later this month to discuss trade deals.
Gen. Prayuth Chan-ocha said he will fly to the United Kingdom and France to call for more investment and trade after the union normalized relations with his administration, which is trying to attract international interest in its development agenda.
"This is the process that's happening after the EU relaxed their policies toward Thailand. Therefore, we have to advance our trade and investment relations. Many countries there are interested in investing in our EEC," Prayuth said, referring to the Eastern Economic Corridor, a junta-initiated, 1.5 trillion-baht development program along the eastern seaboard.
Although the EU froze relations with Thailand after the 2014 coup, contacts were resumed in December. EU Ambassador Pirkka Tapiola said in May that the EU is signaling a gentle approach to the junta which has been in power four years, saying the union was unlikely to even push to send observers for the next election, which may take place in 2019.
Prayuth met with Tapiola in April at the Government House. Tapiola has said a Thai-EU Free Trade Agreement would only be reached with an elected government.
"I'm not going for my own good. I'm going for the country's. Don't assume I'm going to go there, purchase something and have pocket money left over. If you think like this, shouldn't I just stay put in this country?" Prayuth said. "I could let the country stay like this. But I can't let it go. The country has to move forward."
Correction: A previous version of this story stated incorrectly that EU Ambassador Tapiola said Thai-EU free trade negotiations were underway. In fact, as of June 8, 2018, no talks have been held.
Related stories:
EU Will Send Observers to Thai Election – If Invited
EU Vows to 'Re-Engage' With Thailand, With Conditions
EU Dangles Free Trade Talks 'If' Thailand Takes Democratic Steps