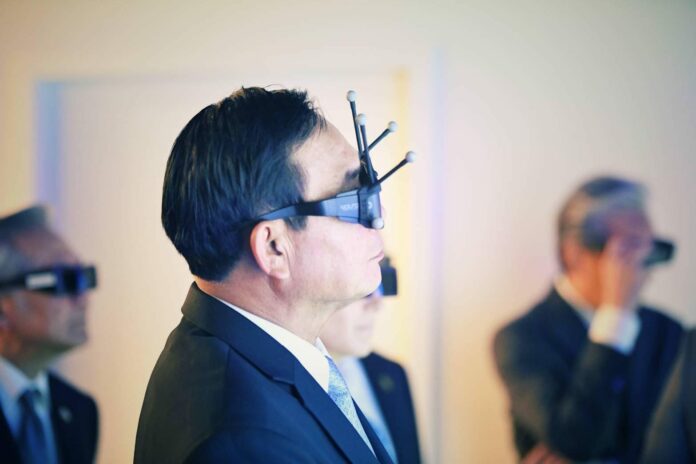 PARIS — Gen. Prayuth Chan-ocha, who just four years ago drew condemnation from European governments for ousting the previous government in a coup, is back on the continent, and he's got a busy schedule.
The junta chairman brushed shoulders with aeronautics executives, floated promises to develop a Pattaya airport and planned to meet more heads of state days after a formal meeting with the British prime minister in London which drew ridicule back home for nodding along and muttering non-responses.
On Saturday he met with Airbus CEO Guillaume Faury in Toulouse, France. The world's No. 2 maker of commercial jetliners produces planes for about 100 airlines in Asia, including Thai Airways.
"The EEC is going to be born soon. When [Thais living overseas] go home, you won't recognize your country, because it's going to develop so much," Prayuth said, referring to the Eastern Economic Corridor.
His military government has staked the credibility of its economic leadership on technology oriented development quarter in the east of Thailand.
The junta leader said his administration was developing and expanding the Chonburi airport U-Tapao International Airport to be able to receive 15 million visitors in the next five years and 60 million eventually.
Prayuth then viewed a VR presentation about developing U-Tapao at Airbus headquarters.
He will meet Monday with French President Emmanuel Macron.
It's his second trip to Europe since the coup, after having attended a summit in Italy in October 2014.
Meanwhile, the social media was busy lampooning his Wednesday meeting with his British counterpart, Theresa May. A video of the encounter showed the junta strongman murmuring and bobbing his head along to May's statements about improving ties.
"Uh-huh. Yes. Uh-huh. Yes, yes. Thank you. Uh-huh, uh-huh, thank you, sure," Prayuth is heard mumbling.
Some netizens mocked Prayuth for his inability to hold a conversation in English with the British leader.
"People who keep it real don't have to say much. It will hurt his throat," user Phraiwan Wannabut commented sarcastically on a thread.
Prayuth was also featured in the latest Time magazine issue for Asian region. The cover story, which portrayed him as a man who would either lead Thailand to democracy or plunge it into autocracy, was seized by a government spokesman as a sign of acceptance.
"The prime minister's invitation to the UK and France, as well as his Time cover, shows that he is being accepted internationally," Maj.Gen. Sansern Kaewkamnerd told reporters Saturday.