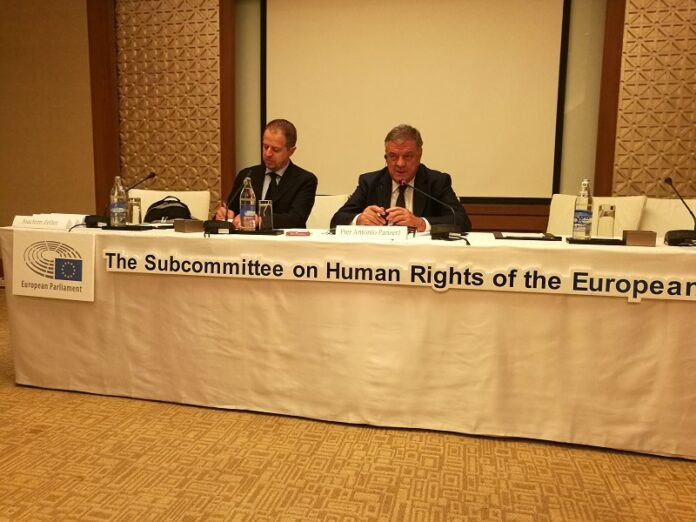 BANGKOK — Thailand is making progress on its rights record but will have to meet all requirements before ties can be normalized with the European Union, a top European human rights official said Wednesday.
After an official three-day visit, Pier Antonio Panzeri – chairman of the European Parliament's Human Rights subcommittee – called on the military government to ensure free and fair elections are held in line with international standards, something he said was a condition for normalizing ties.
"It's fundamental that the prerequisites are met," Panzeri said in Bangkok, adding that elections should look to restore "a democratically elected civilian government with functional democratic institutions."
The six-member subcommittee further urged Thailand to restore civil and political rights and lift all restrictions on freedom of expression, assembly and association. In a Wednesday statement, it said the military regime should reconsider "the disproportionate use of criminal and sedition laws, which often carry penalties of imprisonment against human rights defenders."
It added that human rights violations committed by security forces should be investigated to promote the rule of law and end impunity.
The subcommittee said Thailand must stick to its third national human rights action plan by moving toward abolishing capital punishment. This point of contention came in light of the first in nine years being carried out last month.
Panzeri noted the improvement of labor rights in the fishing industry and visited Samut Sakhon province, a hub for fishing and seafood factories which largely employ migrant workers. Several years ago the Thai fishing industry was the subject of damning reports about its use of forced labor under slave-like conditions.
Despite junta leader Gen. Prayuth Chan-ocha's recent official visits to Paris and London as prime minister, subcommittee member David Martin said Thailand had to be a democratic country before negotiations for a free trade agreement could resume.
But human rights activist Pornpen Khongkachonkiet, who was among those who met the subcommittee, said Thursday that the EU isn't applying enough pressure on Thailand beyond issues of rights and conditions for workers in the fishing industry.
"They chose to use their claws and fangs selectively," Pornpen said, adding that it doesn't make sense to ask for a fair vote when many have been prosecuted and detained for merely calling for an election to be held.
She said she has urged the union to send observers if a poll takes place next year as promised by the junta, but members of the subcommittee said they would have to first consider the matter.
However, Panzari said at Wednesday's news conference that EU observers would only be sent if invited by the Thai side.